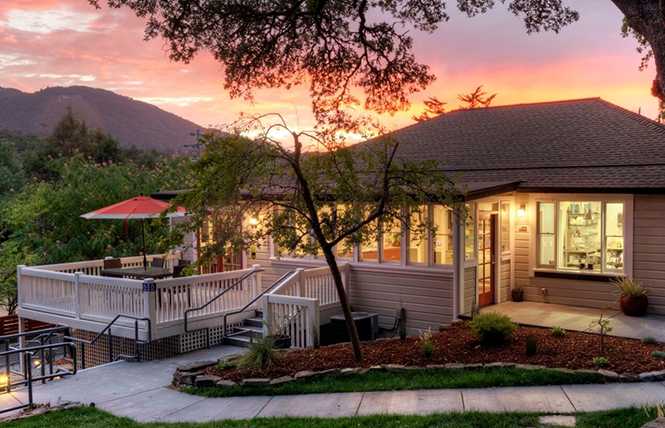 Even though Out There is a very urban person, we know that it's very important to get out of the big city every now and then. So we try to get away, and high on our list of destinations are the resorts, eateries and wineries of Sonoma County.
Viewing 1 thru 12 of 1886 Stories
Stephen Sondheim's "A Little Night Music," inspired by an Ingmar Bergman movie, endures as one of his most successful shows. It's that "Send in the Clowns" musical, as marketers are quick to remind.
"Unbreakable," an epic choral work performed with San Francisco Gay Men's Chorus last summer, is now available on CD and streaming platforms.
Steve Grand will be performing at Feinstein's at the Nikko on Feb. 20 & 21. The openly gay singer-songwriter will present "Up Close and Personal."
Brahms' last piano compositions are often recorded together (at least three new sets have just hit the market) but hardly ever performed complete in recital.
The Berkeley Symphony's 2018-19 season continued last week at Zellerbach Hall with a tribute to composers' responses to literature, prose and poetry.
For more than 40 years, San Francisco's Kronos Quartet has fused musical categories and erased borders. They are impossible to pigeonhole: classical, rock, jazz, or modern?
The San Francisco Opera announced season repertory and casting for 2019-20 this week, and positive first impressions were confirmed in a conversation with General Director Matthew Shilvock.
There was a certain electricity in Davies Symphony Hall last Friday night as Esa-Pekka Salonen conducted the San Francisco Symphony for the first time since his appointment as Music Director Designate was announced at the end of last year.
The New York Philharmonic's new music director Jaap van Zweden made his second appearance at DSH with his own strong-minded interpretation of Bruckner's Symphony #5.
Writing his final opera "Death in Venice," Benjamin Britten, who knew he was dying, looked at his life's work and stripped it bare.
The San Francisco Opera's 2018 fall season and holiday events have ended, but preparations for the 2019 summer season are ongoing.
When it comes to LGBTQ music, the present, as well as the past and future, are female.
Viewing 1 thru 12 of 1886 Stories