Advertising information for Inside Pride, the official magazine of San Francisco 2019
Viewing 1 thru 12 of 1208 Stories
"Lie with Me" (Scribner) is as immediately involving and heart-breaking a tale of gay first love as I can recall.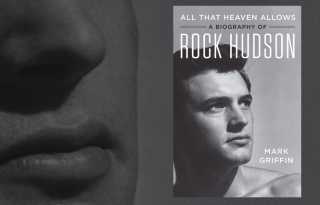 Tall, dark, handsome, buffed, manly yet sensitive: Rock Hudson (1925-85) was the embodiment of the classic Hollywood hunk in the 1950s and 60s.
In his latest collection of essays and performance pieces, Tim Miller demonstrates a well-honed sense of humor, a passion for queer history, and the kind of melodrama only a true performance artist can exude.
I've wearied of the too-oft-repeated Joan Didion quote, "We tell ourselves stories in order to live." In a warmer voice all his own, Dustin Lance Black has given it a new lease on life with his memoir, "Mama's Boy: A Story from Our Americas."
In the part of his life that begins after the events chronicled in his new book "The Light Years" (Farrar, Straus and Giroux), Chris Rush has become known as a painter.
Christopher Castellani's deeply felt new "Leading Men" (Viking) exhibits another compelling aurora.
In his new memoir, gay actor Andrew Rannells tells the contemporary Candide-like adventure of a Midwestern boy relocating to New York City to fulfill his dream of being on a Broadway stage.
"The Editor," a new novel by Steven Rowley (Putnam), takes off from the most promising of premises. What if a first-time novelist discovers that the book editor at Doubleday who signs on to shepherd his book through publication turns out to be Jackie?
I read my way sequentially through Michael Carroll's new short story collection, "Stella Maris and Other Key West Stories" (Turtle Point Press).
The astute literary examination of the enduring trauma of wartime military service "Men Touching" is set in the mid-1980s and follows Robb Jorgenson, a Seattle biology professor in his 40s.
"Luminous Traitor: The Just and Daring Life of Roger Casement" (UC Press) is a deeply informed biographical novel, skillfully told in present tense, that brings a lesser-known historical era and its principal actors.
The stories in "Lot" are free-standing but cycle around the family fable of a first-person narrator Nic (Nicolas), whose name is revealed grudgingly.
Viewing 1 thru 12 of 1208 Stories