The people have spoken. The Bay Area Reporter is pleased to announce the 2020 winners in the Besties' Arts and Culture Categories. These are the places that bring (in your opinion) the finest highbrow entertainment the Bay Area has to offer.
Viewing 1 thru 12 of 11857 Stories
In this time of staying at home and practicing physical distancing when we venture out, it's not a surprise that the majority of this year's Besties winners are not open right now.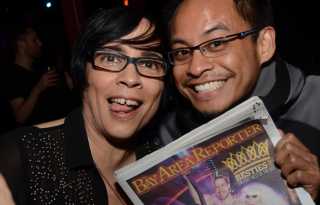 San Francisco is one of 11 US cities that is fortunate to have a legacy LGBT publication by us, for us, and about us. Help preserve the BAR as an historic and important community institution for the future.
Frameline, the San Francisco LGBTQ film festival usually held in June, has been postponed due to the coronavirus outbreak, Executive Director James Woolley announced Tuesday.
Terrence McNally, the playwright, librettist, and screenwriter who portrayed gayness to a mainstream theater audience, died March 24th at 81, becoming one of the first celebrities to succumb to COVID-19.
Joseph Caldwell's 'In the Shadow of the Bridge' is a heartfelt memoir about being gay in the New York City of the 1950s an '60s, as well as a remembrance of the peak years of the AIDS crisis.
I watched the new DVD of Tchaikovsky's 'Eugene Onegin,' the most emotionally brutal of the Tchaikovsky operas, in a Bolshoi production by Dmitri Tcherniakov, my personal favorite of the current gang of opera enfants terribles, from my bed.
Welcome to the new dystopia. While we are self-isolating for the foreseeable future, let's make our time in quarantine as manageable as possible and create a TV routine that is helpful, not harmful.
Oakland couple Richard Board and Flynn DeMarco's first bit of notoriety for their shared love of Legos came in 2018 when they wowed the crowd and judges at the annual Bricks by the Bay convention. They recently appeared on the TV show 'Lego Masters.'
Although born in Detroit, Elaine Stritch was essentially a New Yorker. She performed on TV, film, and cabaret, but Broadway was the venue for which she is best remembered by two generations of theatre cognoscenti. She triumphed in musicals and dramas.
'Bombshell," (just released on DVD) details the fall of Roger Ailes, the head of conservative cable Fox News, due to a sexual harassment lawsuit instigated by several star journalists working at the network.
Continuing our coverage on stay-at-home entertainments, here are multiple options to lift your spirits in pandemic times.
If we're going to get through this situation successfully, we're going to have to be able to laugh at it. Alaska provides a giggle amid our crisis.
Viewing 1 thru 12 of 11857 Stories