Out in the Bay: Sycamore book 'The Freezer Door' mourns 'the dream of queer'
Friday Jan 29, 2021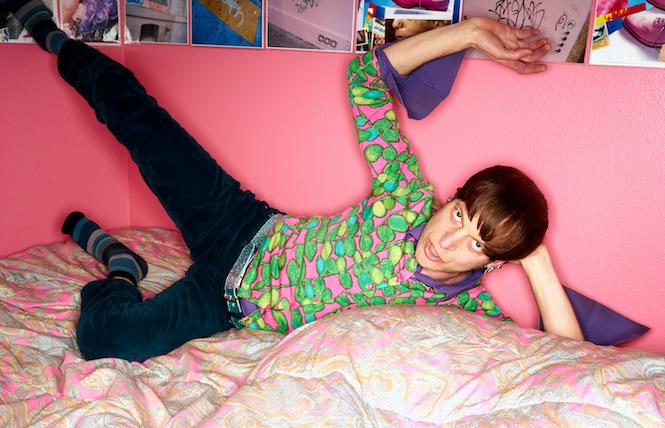 Mattilda Bernstein Sycamore's new highly-praised book, "The Freezer Door," mourns losing "the dream of queer" that she says consumerism, technology, and gentrification are destroying.
"The dream of queer is a world without borders, a world that ends all hierarchies and creates possibility for everyone on the fringe," and provides "radical alternatives to both the violence of straight normalcy and the hypocrisy of gay assimilation," Sycamore declared.
She spoke on this week's Out in the Bay podcast and radio program, where she also read passages from the book and expanded on other topics within it.
Intensely serious at times, she also laughs heartily; introduces us briefly to the ice cube, the ice cube tray and other characters; even snipes at the literati: "It's hard to imagine anything more damaging to literature than literature."
Sycamore said suburban "gated mentality" has moved into cities, changing the way people interact. The attraction of cities for her was the possibility of "meeting people totally different from me who would shock me or change me," she said. "People aren't moving to the city for that dream anymore" but instead for careers.
"They grow up, they go to a college that doesn't change them, they get a job that doesn't change them, and they're scared. They drive into the parking lot of their [apartment] building, they order in their food, and maybe they go out on weekends and get smashed."
Although most reviewers call "The Freezer Door" a memoir, Sycamore considers it a lyric essay. Its experimental form combines memoir, poetry, a little fiction, and plenty of clever criticism as it delves into gender, desire, trauma, dreams, sex in public spaces, gentrification, conformity, commodification, politics, gay bar culture (or lack thereof), feminism, and especially the yearning for connection.
The book received rave reviews in the New York Times and Washington Post Book World, is a New York Times Editors' Choice, and is one of Oprah magazine's Best LGBTQ Books of 2020. It is Sycamore's fifth book. She has also edited six anthologies on queer themes. Here's Out in the Bay's 2013 conversation with Sycamore about her memoir, "The End of San Francisco."
Want to help produce queer radio? Out in the Bay has part-time volunteer, intern and possibly some limited paid roles in front of and behind the microphones. Click here for more info.
Hear more from author Mattilda Sycamore Bernstein on this week's Out in the Bay - Queer Radio from San Francisco. The program re-airs 9:30 a.m. Saturday, January 30, on KSFP, 102.5 FM in SF only, and is available anytime on Out in the Bay's website. Out in the Bay also airs at 10 p.m. Tuesdays on KALW, 91.7 FM throughout the Bay Area.
Eric Jansen is primary host and managing producer of Out in the Bay — Queer Radio from San Francisco. Learn more and listen at https://www.outinthebay.org/
Help keep the Bay Area Reporter going in these tough times. To support local, independent, LGBTQ journalism, consider becoming a BAR member.