Dance films, classes move on(line)
Sunday Sep 27, 2020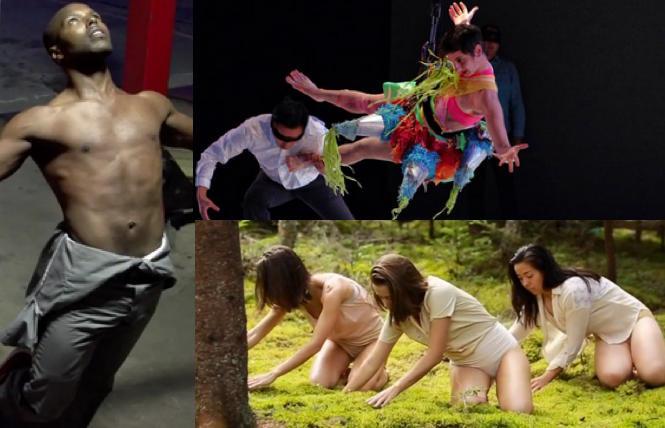 In these unprecedented times, artists still create. Dancers, choreographers and teachers are no exception. While the in-person physicality of a dance performance can't be fully recreated, some companies are doing their best, with an array of online films, concerts, and classes, including a socially-distanced outdoor performances. Here's a roundup of local selections, and events in other cities.

Alonzo King Lines Ballet
The company will broadcast Constellation, a collaboration between choreographer Alonzo King, visual electronic artist Jim Campbell, and mezzo-soprano Maya Layhani. The first part will stream from October 2-16, and the second part will stream from October 9-23. Free/donations. https://linesballet.org/constellation/

Amy Seiwert's Imagery
Known for her innovative combination of modern style with ballet strength, Seiwert's dancers dazzle and her choreography is always compelling. On October 1, Seiwert and Academy Award-nominated filmmakers Kristine Samuelson and John Haptas premiere a new collaborative dance-film work, 'Crack of Dark.' The themes are inspired by a Sacramento chef who, forced to close his restaurant, found others ways to help his community.

"This year is a significant year," said Siewert in a press statement. "As we celebrate the tenth anniversary of the Sketch series, it is also an unusual and challenging time in the field of dance, when live performance is not possible. In response to the limitations imposed by COVID-19, we have chosen film as the format for this year's Sketch. Our hope is to present honest accounts of how different communities are affected by the pandemic, and raise awareness and support for mental healthcare."

The film features Imagery alumni Weston Krukow, and the event also celebrates the tenth anniversary of the Sketch Dance series as it morphs into Sketch Films. Other dance films in the Red Thread series will feature works by Jennifer Archibald (Oct. 16, 5pm), Stephanie Martinez (Nov 5, 6:30pm) and Ben Needham-Wood (Nov. 20, 5pm).

Free/donations/sliding scale. Oct 1, 6:30pm PST with an after-chat with the artists.
sketchfilm-seiwert.eventbrite.com
www.asimagery.org/sketchfilms

Festival of Latin American Contemporary Choreographers
FLACC 2020: ¡El Grito! features a dozen resistant, queer, indigenous, international choreographers of the Latinx diaspora raising their voices towards collective liberation every Wednesday through Nov. 18. Events include talks, panels, discussions, and presentations. Artists include Tyler Rivera, Miguel Gutierrez, Rosie Herrera, Victor Quijada and others.

The events' featured dance makers are responding to the curatorial theme "El Grito" with a contemporary and emergent act of solidarity during a global pandemic. "El Grito" (The Scream) is referring to a historically rooted demonstration that takes place every year on September 16th, marking Mexican Independence Day. The call and response of El Grito (call the name... respond "VIiva!") is used all over Latin America as a way to bring the people together for social change. Every Wednesday on Zoom and Facebook Live, 4pm PST. RSVP for exclusive access to Q&A's and important updates on the Festival.
www.flaccdanza.org
www.eventbrite.com
Merce Cunningham's 'Event2
For a limited time, the Philadelphia Museum of Art will share a video of multiple dancers in different locations performing the post-modern choreographer's dance as part of a tribute to the painter Jasper Johns, who was a friend and collaborator with Cunningham, and will be featured in a new exhibit as the museum re-opens. Watch on the museum's YouTube channel.

PUSHfest
Online streaming international collection of dances, Choreographer, activist and community organizer Raissa Simpson's PUSH Dance Company continues its 15th anniversary year by increasing its programming by presenting PUSHFest Global, an online streaming festival of current and contemporary dance, with 18 Bay Area dancemakers and companies, and a few from beyond the Bay, in seven live, online presentations every Wednesday, Oct. 7- Nov. 18. https://www.pushdance.org/festival

Portland Dance Film Fest 2020
Protests aren't the only things stirring things up in the Pacific Northwest. With more than 60 films and workshops, the eleven day festival includes world premieres, 26 spectacular PDFF Picks, 9 moving documentaries, 24 mini films created while sheltering in place, and the world premiere of the Oregon Dance Film Commission.

The varying programs include films made in the United States, Spain, Brazil, China, France, and Norway, and include Oregon artists. These works bring movement and film together to engage with themes of belonging, almost encounters, archetypal exploration, womanly innocence, collaborative design, embodied adverbs, fable, returning, and other themes in additional programs.

For the Stay Home Screendance Competition, 24 artists created dance films while sheltering in place during the Spring and Summer of the 2020 Covid-19 pandemic. All films are under five minutes and vary greatly in tone and approach. Vote for your favorite; the top-rated film will get $200. Free/$87. Oct, 2-11. www.portlanddancefilmfest.com

San Francisco Dance Film Festival
The 11th annual festival features a dozen programs in focused themes, and two live-streaming events, With 75 dance films from around the world broadcast on Marquee TV, multiple Bay Area and international companies make for a full-on binge-worthy collection (See trailer below).
Oct. 18-25. https://www.sfdancefilmfest.org/https://www.sfdancefilmfest.org/

Skybridge on Stevenson
Along with music and visual arts talks, the mid-Market venue's schedule includes safe, outdoor space for dance performances as part of its Performance, Music and Open Studio Series.
Oct. 1, 5:30pm, music group Collectivity and The Bellwether Dance Project performs, and Kyle Limin along with cuisine from neighborhood restaurants Montesacro & the GrilledCheezGuy.
Oct, 8, 5:30pm, performances by Marika Brussel, Kyle Limin and Jessie Bie are paired with music from The Ian McArdle Trio. See excerpts of Brussel's dances at www.marikabrussel.com

SkyBridge on Stevenson is located on the 500 block between 6th & 7th streets in SOMA Pilipinas. www.skybridgeonstevenson.org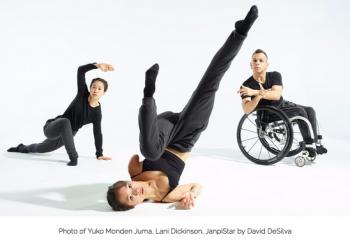 Other ongoing or archived dance/film projects and classes:

AXIS Dance
'If you have a body, you can dance' is the acclaimed Oakland disability-inclusive award-winning company. Take a Zoom class with company members JanpiStar, Bradford Chin, movement improvisation with Artistic Director Mark Brew, or a ballet with guest teacher Robert Dekkers, contemporary style with Bianca Cabrera. www.axisdance.org

Dance Mission Theater
Take an outdoor salsa class or enjoy instructions at home via Zoom in a variety of styles (folklore, hip hop, salsa, voguing, Bhangra, TropiCali, even Belly Dancing; adult and kids classes available. dancemissiontheater.org

Dancing Together Apart
Women's dance-film project with 20 Dancers over 40 days from all up and down the West Coast of the United States, from Portland to L.A., who participated in the work focusing on our current struggles with the COVID pandemic, Black Lives Matter protests and police violence. www.dancingtogetherapart.org
Power Shift: Improvisation, Activism and Community
Co-curated by Cherie Hill, Hope Mohr and Karla Quintero, Power Shift brings audiences inside the improvisational practices of Black, Latinx, Asian American, female-identifying and queer improvisers, and social justice activists, including queer, Afro-Guatemalan choreographer Randy Reyes, performance artist Jarrel Phillips and others. Oct 2 & 9, 8pm. Oct. 10 7 11., 12pm. Donations. hmd.simpletix.com

Roryography
For dance class fun right off the stage of some Oasis and Peaches Christ productions, Roryography is also now online.

"Like so many other artists, the arrival of Covid-19 in March forced me to get creative" said creator Rory Davis in a recent B.A.R. article. The follow-in-the-moment nature of the class translates perfectly online, just like those '80s exercise aerobics tapes. Now that I'm also hosting the class on Airbnb, it's allowed me to dance and interact with people from all over the world."

Sign up for classes at https://www.airbnb.com/experiences/1672375 or https://www.facebook.com/rory.davis.94.

Smuin Contemporary Ballet
The local dance company streams notable works, and offers online dance classes in all levels of ballet, plus tap, hip hop, contemporary and dance for fitness, and Broadway Jazz classes with hunky Weston Krukow; through Oct. 31. $6-$20 each. www.smuinballet.org

Sexitude
Years before we locked down, D'Arcy Drollinger and the Sexitude crew were offering classes in jazzy show dance styles that are fun, inclusive, and full of retro Flashdance style. Check out their archived dance numbers on YouTube, and visit the website http://www.sexitude.com/ for class times and dates.

Stay Fresh at Home
Fresh Meat Productions' new online weekly series of talks and classes to support your wellness, embodiment, breath and connection, with singing, dance and lessons in various topics. freshmeatproductions.org

Sundance Saloon Online Live
How about some Country Western fun? Sundance Saloon offers online dance lessons and dancing every Sunday night. Beginning classes are aimed at novices. Learn how to dance while you shelter in place from 6-9pm. 6pm: beginning line dance for complete novices; 7pm: intermediate line dance; 8:15pm: line dance mini-marathon. www.sundancesaloon.org

Help keep the Bay Area Reporter going in these tough times. To support local, independent, LGBTQ journalism, consider becoming a BAR member.



Comments on Facebook