Homing's In: community, arts, nightlife online July 31- Aug. 7
Thursday Jul 30, 2020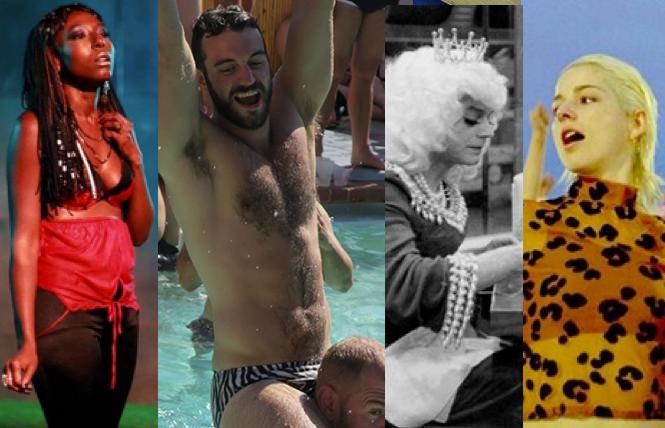 Another Zoom opening, another show - online, of course. When you're not masking up outside, enjoy arts, nightlife and community events at home.


ARTS
50 Years of Pride
Presented by the GLBT Historical Society and the San Francisco Arts Commission (SFAC) Galleries, with the support of San Francisco Pride, 50 Years of Pride features 100 photographs to celebrate five decades of San Francisco Pride, one of the city's most beloved public festivals. View an online version of the exhibition on the GLBT Historical Society's website with the physical exhibition opening later in the year after the city's shelter-in-place order has been relaxed. Thru April 2021 at City Hall. www.glbthistory.org

aGLIFF Film Festival
All Genders, Lifestyles and Identities 33rd annual Film Festival screens dozens of LGBT features, shorts and documentaries, and director Q&As, through Aug. 6-16. $35-$65. https://www.agliff.org/

Amy Siewert: Imagery
Dance is the most vibrantly physical of art forms, and we miss it. Until we can enjoy it live, check out some amazing short dance films by Siewert's beautiful deft dancers. www.asimagery.org

Art on Market Street
Honoring the 50th Anniversary of Gay Pride, artist Win Mixter continues the San Francisco Arts Commission's 'Celebrating 50 Years of Gay Pride' 2020 Art on Market Street Poster Series with work that honors people, organizations and actions in our collective history. https://sfartscommission.org

Author Events at Alley Cat Books
The bookstore, while physically closed, hosts online events with acclaimed authors. the store is also taking mail order book purchases. www.alleycatbookshop.com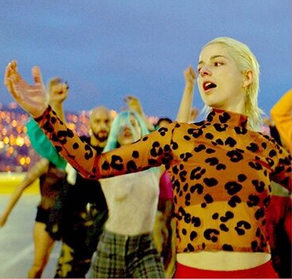 A Boy and His Tiger
The Cartoon Art Museum pays tribute to the comic art of Bill Watterson, creator of the popular Calvin and Hobbs series. Bid on print, T-shirts, bags and more. Artwork created by professional artists, graphic novelists, illustrators and animators was created and auctioned off on eBay, and the remainder will be sold throughout the spring. www.cartoonart.org

Broadway Performers
For Broadway fans, Tony-winning performers and the super-sexy Broadway Bares benefits, visit Broadway Cares/Equity Fights AIDS' YouTube channel for hours of amazing performances. Donation options are linked as well. https://www.youtube.com/channel/

Cheyenne Jackson @ Seth Concert Series
The Broadway, film and TV actor-singer performs an intimate concert online with pianist and music genius Seth Rudetsky. Aug. 2, 5pm PST. Repeated Mon, Aug.3. $20-$25. https://thesethconcertseries.com/

Contemporary Jewish Museum Events & Exhibits
View virtual exhibits (like Predicting the Past: Zohar Studios, The Lost Years) and online events. https://thecjm.org/

Dancing Together Apart
Women's dance-film project with 20 Dancers over 40 days from all up and down the West Coast of the United States, from Portland to L.A., who participated in the work focusing on our current struggles with the COVID pandemic, Black Lives Matter protests and police violence. https://www.dancingtogetherapart.org/

Diasporic Futurism - Pt. 1: The Present Future
Root Division's stunning online group exhibition of multimedia works curated by Leah King and Juan Carlos Rodriguez Rivera; thru Aug. 8. https://rootdivisiontalk.wpcomstaging.com/portfolio/upcoming-exhibitions/

Disclosure
Sam Feder's documentary about transgender depictions in film and television, revealing how Hollywood, including Laverne Cox, Lilly Wachowski, Yance Ford, Jen Richards, Mj Rodriguez, Jamie Clayton, and Chaz Bono. www.netflix.com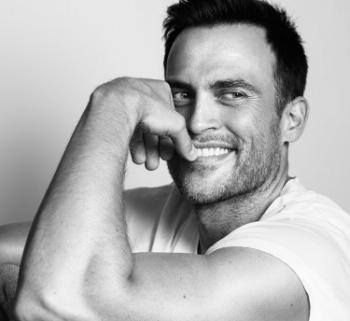 Electricity: the Play
Mel England and Terry Ray's acclaimed duo play about the relationship between two gay men who meet as freshmen in high school in 1969, the year of the monumental Stonewall uprising. In 1983, at their 10th high school reunion, and years later, their stories unfold. Performed live online, July 30. www.electricitytheplay.com

Fauxnique @ Catharine Clark Gallery
Monique Jenkinson brings her video performance work to the art gallery. Thru July 31. www.cclarkgallery.com http://www.fauxnique.net/

Films and Art at BAM/PFA
The Berkeley Art Museum/Pacific Film Archive show online exhibits (Ron Nagle: Handsome Drifter, Folk and Modern Art in Postcolonial India) and art films, including Spaceship Earth, The Cordillera of Dreams and more. www.bampfa.org

Films at The Roxie
Watch independent and classic films online at the Roxie's virtual cinema.
https://www.roxie.com

Frameline44 Films
The LGBT International Film Festival is scheduled for Sept 17-27 online, but you can enjoy a selection of paid and free content, including on-demand Frameline Distribution films, Frameline Youth In Motion films and curriculum, the Frameline Voices catalog on YouTube, and the Frameline Completion Fund. www.frameline.org

Garrin Benfield
Enjoy live and recorded home sets performed by the gay singer-composer. Garrin's YouTube channel

GayBingeTV
Streaming channel for independent LGBT short, feature and documentary films.
https://www.gaybingetv.com/

Gay Men's Sketch/Hot Draw
Mark I. Chester hosts three gay men's sketch events a week, with sexy male models posing and works shared via Zoom. Ongoing events - Tues. Gay Men's Sketch in exile. 6:30pm. Fri. Hot Draw! in exile. 6:30pm. Sun. Gay Men's Sketch in exile aux. - 2pm. instagram.com/gaymenssketch instagram.com/hotdrawsf

Holy Trinity
Named to Indiewire's "Fabulous LGBTQ Films Not To Miss," Holy Trinity is the story of a sex-positive dominatrix in Chicago who discovers a newfound (and drug-induced) talent for speaking to the dead. Molly Hewitt wrote, directed and stars in this wild ride of queer spirituality and alternative sexuality. https://www.fullspectrumfeatures.com/trinity

Homo Say What
Acclaimed documentary explores the origins of homophobia against men that became institutionalized in the 1950s and how that continues to negatively affect all genders and sexualities to this day.
https://homosaywhatfilm.com/

KGAY Summer Concert Series
Virtual concert series to keep you entertained and safe this summer. Spencer Day, 8/2 Shann Carr, 8/9 Anita Treadmill, Ethylina Canne & Clammy Faye, 8/16 Tommy Dodson, 8/23 Alec Mapa, 8/30 Brian Scott, 9/6 Emily West, 9/13 Bill Lohnes $20. www.eventbrite.com

LGBTQ Films on Revry
The global queer streaming network screens free and subscription-paid feature films, documentaries, short films and episodic series. https://revry.tv/

LGBTQ Films on Tubi
The free streaming service showcases several queer films, including God's Own Country (2017) - won directing award at Sundance; Hearthstone (2016) — won directing award at TIFF; Jeffrey (1995) — starring Patrick Stewart; Latter Days (2003); Lip Service (2012, series); Love is All You Need? (2016) — starring Emily Osment; Poison (1991) - directed by Todd Haynes, Sundance Grand Jury Prize winner; Saved! (2004) — starring Mandy Moore and Macaulay Culkin, and others.
https://tubitv.com/

Lee Grant Documentaries
Hope Runs High is incredibly proud to announce the theatrical re-release of Academy Award winner Lee Grant's documentary work. Kicked off at NYC's Film Forum as part of a 13-film retrospective of Grant's work as actor and director, this series represents the largest retrospective of Grant's time behind the camera. www.hoperunshighfilms.com

Litquake on Lockdown
Listen in on author talks, with Billy-Ray Belcourt, Greg Sarris, Jane Coaston, Alexandra Petri and others. July 23-30. https://www.litquake.org/

Live From London
Online festival of the world's finest vocal music, including the Bay area's Chanticleer. Thru Oct. 3. $15-$100. https://www.chanticleer.org|https://www.chanticleer.org>

The Marsh Stream
The theatre producer known for acclaimed solo shows presents a variety of programming at 7:30pm nightly on MarshStream, its newly launched Broadcast Platform, even interactive Bingo game nights. http://themarsh.org/marshstream/

A Midsummer Night's Dream - Summer Showcase
Circus Center invites you to enjoy William Shakespeare's A Midsummer Night's Dream - Circus Center's Summer Showcase, created and directed by Felicity Hesed Beginning July 25, watch the show in five episodes, one each Saturday. The family-friendly circus journey features aerialists, acrobats, singers, dancers and clowns, with performances by Circus Center's instructors, high-level students, and professional alumni. Weekly thru Aug. 22. www.circuscenter.org/mainstage

Museum Collections
Many local museums and galleries host expanded online exhibits of classic and modern art, plus short films and 'Artist at Home' interviews. Check them out.
Oakland Museum museumca.org
SF MOMA www.sfmoma.org
de Young and Legion of Honor www.famsf.org
Asian Art Museum https://asianart.org

Music and Dance at Cal Performances
Watch videos of dances (Mark Morris, Mariinsky Ballet, Meredith Monk) and classical and modern music courtesy of the Berkeley-based performing arts organization. Aug. 3, 21 year-old cellist Sheku Kanneh-Mason will guest curate the next Now, More Than Ever weekly YouTube playlist. www.calperformances.org Also on YouTube and Spotify.

Never the Sinner
Exit Cafe's online discussion of the play about Nathan Leopold and Richard Loeb, the 1920s 'spree killer' murderers. https://www.facebook.com/exittheatresf/live/

New Conservatory Theater Company: Offstage But Online
Temporarily shuttered, queer theater company NCTC is now building a digital playground for your viewing pleasure that will feature actor monologues, messages from playwrights, exercises to practice mindfulness and original material from Conservatory students. Quarantine is a Drag Trivia Night, with J. Conrad Frank (Katya Smirnoff-Skyy), drag performers Coco Buttah, Elsa Touche, and Piranha.
https://www.nctcsf.org/onstage-to-online
www.facebook.com/nctcsf
https://www.youtube.com/user/NCTCSF

NIAD Exhibits
The art studio for developmentally disabled adults shares online exhibits and sells beautiful works of art.
www.niadartstore.org

Opera online
San Francisco Opera streams productions of several new and classic works. https://sfopera.com/ Also, New York's Metropolitan Opera shares their amazing productions online. www.metopera.org

Play at Home
Berkeley Repertory Theatre presents a bunch of short play scripts you can download and perform at home, featuring works by Julia Cho, Peter Sinn Nachtrieb, Miranda Rose Hall, Ricardo Pérez González and several others. www.playathome.org

Prideland
New interview series; Out, Proud & Southern: Dyllón Burnside's Story; recounts his own experience coming out in the South and travels to the heart of Alabama to meet Carmarion D. Anderson, a barrier-breaking transgender woman of color and the Alabama State Director of the Human Rights Campaign. www.pbs.org

The Prince
Sebastián Munoz' searing gay prison drama set in a repressive 1970s Chilean prison streams online starting July 7. https://www.kinolorber.com/

Proud
Philippe Faucon's three-part dramatic film about French gay lives in 1981, 1999 and 2013. https://kinomarquee.com/

Putting On
Season 2 of the gay reality show airs (starring Israeli-born underwear model, Instagram star, and entrepreneur, On Mekahel); Sundays at 4pm & 7pm. https://revry.tv/

Queen of the Capital
Josh Davidsburg's vivacious and inspiring documentary follows Muffy Blake Stephyns, a drag performer with high aspirations. Muffy and her everyday persona, Daniel, navigate the drag and bureaucratic worlds of Washington, D.C., while following her dream to lead a colorful group of philanthropic drag performers. $10. https://ondemand.drafthouse.com/film/queen-of-the-capital/

Queer East Film Festival
Mini-festival of LGBT Asian films. https://queereast.org.uk/

A Queer Serial
New series of LGBT-themed podcasts with voice actors such as Sam Pancake (Transparent, Gilmore Girls), @lgbt_history's Matthew Reimer, Radical Faeries' Will Roscoe and Joey Cain, and Chicago performers Salvio Gado and Jon Martinez, along with real recordings of pioneers including transgender entertainer Christine Jorgensen, civil rights activist Bayard Rustin, and lesbian journalist Edythe Eyde. https://www.mattachinepod.com/seasontwo

Rex Ray: Cut and Paste
New exhibition of works by the late gay Bay Area artist; Rex Ray (1956—2015) was a beloved San Francisco artist and designer recognized worldwide for his distinct compositions, saturated colors and unapologetic devotion to beauty. His art was widely viewed as an accessible link to the pop and modernist aesthetic although his work referenced a variety of influences. New book of his art on sale. Thru Aug. 30. Open for limited visitors (face masks required) Tue-Fri, 10am-5pm. 502 3rd St. https://gallery16.com/

San Francisco Gay Men's Chorus
What's more inspiring than the San Francisco Gay Men's Chorus? Concerts and films, plus guest performers joining their Behind the Curtain series and Summer Reruns (Billy Porter, Chasten Buttegieg, Adam Rippon, Britney Coleman, Laura Benanti, Andrew Lippa) Crescendo: Voices Rising gala honoring Billy Porter and Ariadne Getty, Aug. 17, 7pm. https://www.sfgmc.org/sfgmctv

San Francisco Performances Presents Front Row CD Archive Online Series
After several programs in celebration of their 40th anniversary were cancelled, instead, SFP offers memorable classical concerts from the past, all recorded at the Herbst Theater between 2004-2008. Concerts are audio only. http://sfperformances.org/

SF Jazz Fridays at Five
Cool jazz will bring you good vibes. The acclaimed venue brings their concert series online with talented musicians. https://www.sfjazz.org

SF Mime Troupe
Enjoy the theatre company's new radio serial-style production of Tales of the resistance, thru Oct. 24. Each series will have 2 episodes, which cycle through the Summer 2020, culminating in a finale where all 4 storylines converge. https://www.sfmt.org/talesoftheresistance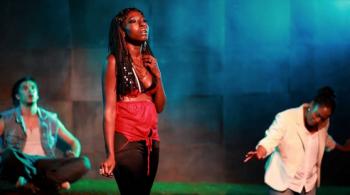 Smuin Contemporary Ballet
The local dance company streams notable works, including Helen Pickett's Oasis, Brennan Wall's Nocturne, Rex Wheeler's Sinfonietta and an ongoing Hump Day Ballets series. https://www.smuinballet.org/

The Sons of Tennessee Williams
Fascinating documentary film about gay-run Mardi Gras crews, from their early years to today. https://vimeo.com/ondemand/sonsoftennesseewilliams

Stars in the House
Musical genius and affable host Seth Rudetsky —with his husband James— hosts Zoom chats with Broadway, film and TV stars galore. One of the first online fundraisers, your donations help performers of all kinds, from actors to lighting crew members. Broadway may be closed, but you can enjoy living room concerts and chats with favorite stars. www.starsinthehouse.com

Superheroes
Campo Santo presents an artist relief watch party of Sean San José's stunning drama about journalist working to separate fact from fiction as she investigates the sordid history of the crack-cocaine epidemic. Partially inspired by Bay Area Reporter writer Gary Webb's groundbreaking investigative journalism and his subsequent book, Dark Alliance. July 31, 7pm, with a post-performance cast and creators chat. https://www.facebook.com/camposantosf/

Surviving the Silence
World premiere of the documentary about the pre-'Don't Ask Don't Tell' struggle of Colonel Patsy Thompson, who was forced to expel Army hero Colonel Margarethe Cammermeyer for being a lesbian. In addition to revealing this untold story, Surviving the Silence explores Thompson's 30+ years of a closeted life with now-wife Barbara Brass. Together, they candidly share how they wrestled with heart-wrenching choices in public and in private. https://filmfestivalflix.com

Terrence McNally: Every Act of Life
Screening of the American Masters documentary about the the late gay playwright. http://www.pbs.org/wnet/americanmasters

Theatre Rhino
The local gay theatre company presents online performances of solo and other plays, including works written and performed by John Fisher. July 30, 8pm: The Scammer: Van Meegeren and the Dislocations of Disaster Other plays archived online. www.therhino.org

Virtual Streaming Room With Cinema SF
Cinema SF, owners of the historic Balboa and Vogue Theaters, are keeping the spirit of movie-going alive with a series of virtual movie screenings and online chats. Proceeds from the screenings will go towards keeping the theaters alive so they can reopen after the shutdown ends. https://www.cinemasf.com/

We Players' Audio Dramas
the innovative site-specific theatre company presents podcast-style audio re-interpretations of their recent productions, including Wonder Storytime with Alice and Friends, and The Odyssey. www.weplayers.org

Wild & Scenic Film Festival
Animals worldwide have reclaimed urban spaces, as you may have seen in the news. But we need to face how our damage to the environment and abuse of wild animals may have aided the spread of disease. While we contemplate that, enjoy films of animals in the wild. Peninsula Open Space Trust (POST) hosts an ongoing series of nature films and talks. openspacetrust.org

WQUR: Queer Quarantine Radio
BenDeLaCreme, Jinkx Monsoon, Peaches Christ and Major Scales perform old-time radio-style thriller detective programs. https://anchor.fm/wqur
NIGHTLIFE
Bootie Mashup
Adriana A and guest DJs blend pop hits to danceable grooves in livestreams, Tuesdays-Saturdays. https://www.twitch.tv/BOOTIEMASHUP

Boy Division
DJ Xander hosts the Twitch online edition of the New Wave retro-fun dance party. www.twitch.tv/deejayxander

Broadway Bares: Zoom In
Broadway Bares, the annual striptease music and dance fundraiser for AIDS charities, goes online for a special in-home viewing of the always sold out New York City event. The annual event, which features dozens of Broadway's talented -and gorgeous- male and female dancers, singers and actors, benefits Broadway Cares/Equity Fights AIDS. August 1.
See related article on www.bar.com> https://broadwaycares.org/

Digital Pride Fest
Enjoy drag and cabaret performances with Divina De Campo, Trinity the Tuck, Pearl & Precious Brady-Davis, Deven Greeen & Handsome Ned, Miz Cracker, Desmond is Amazing, Manila Luzon and many more. www.digitialpridefest.com

Drag Alive from The Stud
Every Saturday night The Stud, San Francisco's oldest queer bar, will host Drag Alive. Vivvyanne Forevermore and Jillian Gnarling bring you a virtual Stud to help support the staff, performers and the goals for a future venue. Party with the crew of The Stud at Twitch TV: https://www.twitch.tv/dragalive

Drag Queen Mukbang
Online episodic mini-series of drag performers in a show sponsored by Jack Daniel's new brand, Tennessee Fire, with Patrick Starr, Gia Gunn, Eugene Lee Yang and Laganja Estranja. Saturdays. www.jackdaniels.com

Frolic Quarantine
The fun pursuit party goes virtual. Don your animal gear and enjoy a variety of DJ mixes. Monthly, first Saturdays. http://frolicparty.com/

Juanita MORE!'s ListenMORE!
Enjoy a podcast series of tales about the prolific nightlife producer, chef and activist, with Mr. David, Katya Smirnoff-Skyy, Mutha Chucka, William Martin, Voodonna Black, Dulce De Leche, Sister Roma and Traci Chambers Ross More. juanitamore.com/podcasts

Lazy Bear Virtual Week
The annual bear fest of DJed grooves, drag shows and parties goes online with a weekend of scheduled entertainment. https://www.facebook.com/events/598238901056869/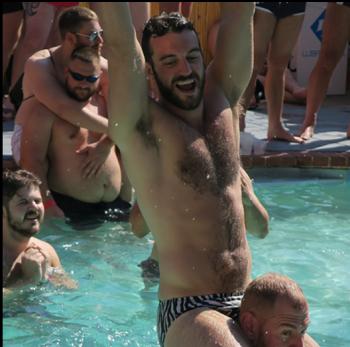 The Monster Show
One of the longest running drag shows in the Castro, The Monster Show has made The Edge bar a Thursday night destination. The Monster show now comes to Twitch TV, where the performers will entertain you while they raise money for bar employees. https://www.twitch.tv/monstershowsf

Oasis TV
The SoMa nightclub's Pride programming includes new and archival footage from the venue's best shows. July 24, 7pm: An Evening with Matthew Martin! July 31, 7pm: Three's Company Live. July 25, 7pm: The Golden Girls Live table reading. Other shows: Sex and the City Live, , Buffy the Vampire Slayer Live, Star Trek Live and AbFab Live.) plus Above and Beyond the Valley of the Ultra Showgirls, Debbie Does Dallas and Bitch Slap. July 10 Star Trek Live and Meals on Heels, drag dinner delivery. New content will be uploaded regularly. sfoasis.com/

Pillows
Glamamore's long-running Monday night party at Powerhouse can also be found at Twitch TV. The party is called Pillows and has been a staple of the bar for years and is currently being hosted by Mary Vice. It's better than Monday Night Football! Check it out every Monday at 9pm. https://www.twitch.tv/cashmonetdrag

Quarant-Tea
One of the first local nightlife fundraisers, the SF Queer Nightlife Fund presents DJs spinning hours of music for your now possibly obsessive housecleaning activities. https://www.twitch.tv/sfqueernightlifefund

Quarantinis with Katya
Katya Smirnoff-Skyy sings and hosts weekly Thursdays online cocktail parties. www.facebook.com/katya.smirnoffskyy

Queerpowers.com
A new LGBTQ+ platform developed by two San Franciscans on the first day of the Covid-19 quarantine. enjoy live drag shows, queer house parties, political broadcasts and other LGBTQ content from all over the world, uploaded hourly. Founded and curated by former Google employee Katie Bush and former Apple employee Anders Howerton. https://www.queerpowers.com/

Red Hots Burlesque
enjoy drag and strip shows, music acts and more in online performances.
http://redhotsburlesque.com/

Russell Deason's Happy Hour in Exile
The Bestie-winning pianist and cabaret singer brings his martini bar ambiance into your home; Mondays 5:30pm-7pm. www.facebook.com

SF Eagle
The famed leather bar now features wacky karaoke, DJs and other entertainments. https://www.twitch.tv/sfeaglebar

Sampson McCormick
The acclaimed comic shares insightful witty perspectives of a Black gay man in short clips and "Church Boy," a new 40-minute recorded show. http://www.sampsoncomedy.com Sampson's YouTube channel

Suds & Studs: Baloney Car Wash
Your favorite local male burlesque show goes outdoors for socially-distance actual car wash fun, with parked car cocktails, and sudsy fun. Aug. 1, 12pm-3pm at Oasis. 298 11th St. https://sfoasis.com/ https://www.facebook.com/events/907655933041177/ https://www.sfbaloney.com/

Sundance Saloon Online Live
Sundance Saloon offers online dance lessons and dancing every Sunday night. Beginning classes are aimed at novices. Learn how to dance while you shelter in place from 6-9pm. 6pm: beginning line dance for complete novices; 7pm: intermediate line dance; 8:15pm: line dance mini-marathon. http://www.sundancesaloon.org/

Sunday Funday @ Port Bar Oakland
Yes, the bars with tasty cocktails and limited to-go and dine-out dishes is open. Sunday Sunday 12pm-8pm. Fri & Sat 3pm-12am. Tue 5pm-12am. 2023 Broadway, Oakland. https://www.portbaroakland.com/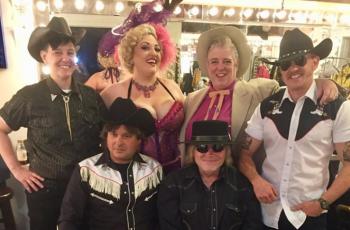 Velvetta Happy Hour
The Bay Area's Country-Folk band, featuring Leigh Crow and Ruby Vixen, host a Zoom party to celebrate they release of their new EP, with new songs and classic covers. Aug. 1, 4pm-6pm. https://www.facebook.com/events/321650982304283/


COMMUNITY
Castro Country Club's Virtual Gratitude Meeting and Check-in
Castro Country Club, the safe space for queers in recovery, will be holding virtual meetings on Sundays at 1 pm until they are able to reopen. The Zoom meeting room will open at 12:30 and the meeting room will remain open for at least 30 minutes thereafter for hanging out and fellowship.
https://www.facebook.com/pg/CastroCountryClub/events/ Join the Zoom meeting at https://zoom.us/794362233 Meeting ID: 794 363 233

Daily Services at Grace Cathedral
Grace Cathedral, the welcoming and affirming Episcopalian congregation atop Nob Hill, will be holding online services weekday mornings at 9am and Sunday mornings at 11am. Grace is also hosting online Bible study and other events. www.gracecathedral.org

Exploratorium Events
Talks, and demos with a science theme, including comet-cam and more. www.exploratorium.edu

Fighting Back with the GLBT Historical Society
Three years ago the GLBT Historical Society launched Fighting Back, a series which brings together community leaders, experts, historians and activists to explore lessons from the past that might be useful in formulating resistance efforts today. The series is continuing online with the moniker "Fighting Back: Lessons From AIDS for Covid-19." The series hopes to find ways to transform their possible feelings of anger, despair or anxiety into action, and to find models for building community and solidarity in the midst of this pandemic. $5 donation. July 31, 6pm: Dykes, Camera, Action! Online exhibits include Labor of Love about the first ten years of Pride events in San Francisco; Aug. 5, 6pm: The Compton's Cafeteria Riot & the Legacy of Police Violence. Online exhibits: Performance, Protest & Politics: The Art of Gilbert Baker, Pioneering Periodicals, 1940s-1950s, Picturing Kinship: Portraits of our Community by Lenore Chinn and 50 Years of Pride. https://www.glbthistory.org/fighting-back

Fighting Racism
Join fundraising support and civil rights activism through various groups: The George Floyd Memorial Fund
(https://www.gofundme.com/f/georgefloyd, The Minnesota Freedom Fund (https://minnesotafreedomfund.org/), Black Lives Matter (https://blacklivesmatter.com/), Campaign Zero (https://www.joincampaignzero.org).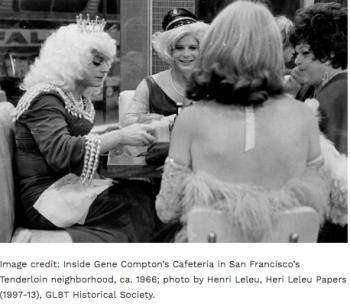 GLAAD Media Awards
The Gay & Lesbian Alliance Against Defamation's annual awards will be held online, with a fab array of special guests, including Dolly Parton, Dan Levy, Lil Nas X, Angelica Ross and many others. Scheduled for July 30 at 5pm PST, the ceremony will be streamed on GLAAD's YouTube and Facebook channels, with speeches, honors, music and comedy acts. https://www.glaad.org/ Rebroadcast via LogoTV Monday Aug. 3. https://www.youtube.com/user/LogoTV/featured

GLIDE Services
Online services with the spiritual center of healing, faith, justice and community for everyone. https://www.glide.org/church/

Job Services at LGBT Center
Learn new job search skills, work on your resume and more in online workshops. https://www.sfcenter.org/program/employment_services/

Keshet
The Jewish LGBTQ organization's online events include discussions, author talks and celebrations.
https://www.keshetonline.org

LaborFest
Ongoing series of free film screenings, online discussions about politics, labor ethics, civic rights, Black rights and more. Thru July. https://laborfest.net

LGBT Asylum Project Podcast
Creator and host of the LGBTQ Asylum podcast is 28-year-old Sayid Abdul, a queer Uighur refugee who was granted political asylum in 2018. Sayid speaks authentically and truthfully to the US asylum process, and he and his guests engage listeners in gripping, critical stories that bring urgency to a crisis affecting millions; available on Spotify and Apple's Podcast. https://www.lgbtasylumproject.org/

LGBTQ&A
Jeffrey Masters hosts a series of weekly podcasts with community notables; sponsored by The Advocate and GLAAD. https://podcasts.apple.com/us/podcast/lgbtq-a/id1151561226

Manny's Live
Community leaders, authors, activists and politicians join online discussions.
www.welcometomannys.com

National AIDS Memorial
The National AIDS Memorial launches a new web platform that features the entire AIDS Quilt's 48,000 panels online, with a new initiative to share stories from 40 years of the pandemic from then to now. July-ongoing. Opening is coordinated with the annual International AIDS Conference. https://aidsmemorial.org/

Out in the Bay
The long-running LGBT radio show, offline for a few years, has returned with new podcast episodes, and an extensive archive. Host Eric Jansen welcomes artists, community leaders and celebrities. https://www.outinthebay.org/

Queercore Podcast
The QueerCore Podcast, hosted by August Bernadicou, elucidates radical, LGBTQ activists' dark histories. It is a spotlight on the catalysts who fought in the front-lines, in the back-lines and in the trenches of civil rights. The QueerCore Podcast is an opportunity for them to tell their stories in their own words. https://www.queercorepod.com/

Shabbat Services With Congregation Shaar Zahav
During the Covid-19 shutdown Congregation Shaar Zahav, San Francisco's synagogue for LGBTQ Jews and friends, will stream their Shabbat (Sabbath) services via Zoom. Friday nights at 7:30 pm and Saturday mornings at 10 A.M. https://shaarzahav.org/services/

Worship With Rev. Dr. Megan Rohrer
Rev. Dr. Megan Rohrer of Grace Lutheran Church, the first openly transgender pastor to be ordained in the Lutheran church, will be offering a variety of online services and events during the Covid-19 shutdown. For kids stuck at home there will be Kids Dance Parties on Zoom until May 1. Pastor Rohrer will also hold their Sunday services online via Facebook live at their Facebook page.
https://www.facebook.com/pg/meganrohrer/events/

Zoom Baking Classes
Join a variety of notable chefs for fun tutorials on baking. Fridays 10am PT/1pm ET.
www.24sixlife.com/baking-zoom-room

Do you have an event to add? Email events@ebar.com

Editor's note: If you liked this article, help out our freelancers and staff, and keep the B.A.R. going in these tough times. For info, visit our Indiegogo campaign. To donate, simply claim a perk!
Comments on Facebook