LGBTQ group's offices not damaged in AFL-CIO fire
Thursday Jun 4, 2020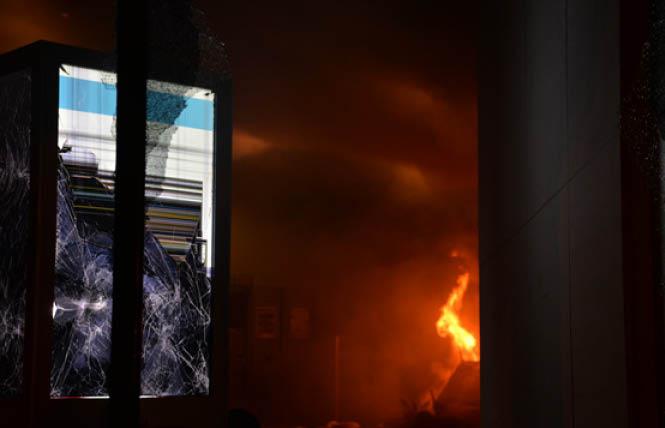 The offices of the LGBTQ labor group Pride At Work were not damaged by a fire at the AFL-CIO building near the White House that was started Sunday night (May 31) by looters who broke away from demonstrators protesting the death of black Minneapolis resident George Floyd last week at the hands of a white police officer, according to an AFL-CIO spokesperson.
The spokesperson, Kalima Newman, said the fire damage was confined to the AFL-CIO building's first floor lobby area. She said none of the building's upper floors, including the second floor where the Pride At Work offices are located, were damaged.
Several media outlets, including the Advocate, erroneously reported that Pride at Work's offices were "destroyed."
Jerame Davis, Pride At Work's executive director, told the Washington Blade he was relieved to learn from an email message sent by the AFL-CIO on Tuesday that none of the building's upper floors had been damaged by the fire.
"Despite this, we believe that black lives matter more than a building or its contents and we stand firm in our commitment to fight for racial, social, and economic justice," Davis said. "The murder of George Floyd was not an isolated incident, but the latest in a series of harms visited upon black communities in this country."
"We will continue to work to end systemic racism and dismantle white supremacy," he said.
Davis noted that like organizations throughout the area, AFL-CIO employees and employees of affiliated organizations operating in the building as tenants such as Pride At Work have been working remotely from home since the coronavirus restrictions were put in place in March.
D.C. Mayor Muriel Bowser and District Police Chief Peter Newsham have said they believe the people engaging in looting, the setting of fires, and window smashing at D.C. stores and office buildings that began in full force on Saturday night are outside agitators that are not directly affiliated with protesters that have been engaged in demonstrations in D.C. and across the country in response to Floyd's death in Minneapolis.
Authorities in Minneapolis have charged the police officer responsible for Floyd's death by kneeling on Floyd's neck and preventing him from breathing with second-degree murder. The officer and other officers accompanying him were fired from their police jobs before the murder charge was filed. [The other three officers were charged Wednesday with aiding and abetting murder.]
Newsham announced at a news conference called Tuesday morning by Mayor Bowser that D.C. police made more than 300 arrests Monday night, June 1, and in the early morning hours of Tuesday, June 2, of protesters engaging in "illegal actions." He said most were charged with violating the curfew that Bowser put in place barring city residents and visitors from going outdoors between 7 p.m. and 6 a.m.
Bowser said city residents leaving their home to vote between 7 p.m. and 8 p.m. on Tuesday, when D.C.'s primary election was being held, would be exempt from the curfew for that time period.
The more than 300 arrests on Monday and early Tuesday followed what D.C. police said were 106 arrests made from Saturday through early Monday. Newsham said that in addition to curfew violation charges, other charges filed against those arrested were felony rioting and burglary related to looting of businesses.
DC-area LGBTQ bars
The Washington Blade on Monday visited the sites of the 14 bars and restaurants that specifically cater to an LGBTQ clientele and found that none of them as of Monday afternoon had been damaged during the looting and disturbances, including looting on the same streets where at least four of the LGBT bars and restaurants are located.
However, Jeff McCracken, co-owner of the Duplex Diner at 2004 18th St., N.W., which has a large LGBTQ clientele, told the Blade one of the diner's front windows was smashed sometime Monday night. McCracken said it did not appear as if anyone entered the diner to steal items inside. He said the Duplex, which was offering carryout food service during the coronavirus restrictions, was closed night Monday because of Mayor Bowser's 7 p.m. curfew.
At least three of the establishments, Pitcher's gay sports bar and League of Her Own lesbian bar that share the same building in Adams Morgan, and the Dupont Italian Kitchen, above which the 17th Street, N.W. gay bar Windows is located, prominently displayed signs on the outside of their buildings stating, "Black Lives Matter."
It could not immediately be determined if any of the other LGBTQ supportive businesses were damaged during the disturbances late Monday night or early Tuesday.
Newsham said many of the arrests Monday night and early Tuesday took place in areas away from downtown, including at 14th and Swann Streets, N.W., where 194 people were arrested mostly on curfew violation charges. He said other arrests were made along the 2400 block of 14th Street, N.W., which is located just north of the U Street, N.W. entertainment district.
Lafayette Square
Both Bowser and Newsham said D.C. police were not involved in an action that took place Monday at about 6:20 p.m., 40 minutes before the mayor's curfew went into effect, when uniformed Secret Service and U.S. Park Police officers and some members of the National Guard used tear gas and fired rubber bullets to force several hundred protesters out of Lafayette Square, where protesters have been assembling over the past several days.
According to media reports, shortly after the protesters were removed from Lafayette Square, President Donald Trump and several high-level Trump administration officials walked from the White House through the square to pose for photos in front of St. John's Episcopal Church located across the street from Lafayette Square at 16th and H Street, N.W.
A breakaway contingent of protesters on Sunday night set the church on fire, prompting Trump to say he was considering sending in federal troops to stop rioting in D.C. and other cities throughout the country because, according to the president, local police departments were failing to stop the rioting.
Bowser has called on the president not to send in federal troops or to continue what the mayor called the president's inflammatory statements that she said have raised tensions instead of seeking to calm the nation.
"What I could see just like you all could see, I didn't see any provocation that would warrant the deployment of munitions, especially for the purpose of moving the president across the street," Bowser told the news conference on Tuesday.
Editor's note: If you liked this article, help out our freelancers and staff, and keep the B.A.R. going in these tough times. For info, visit our Indiegogo campaign. To donate, simply claim a perk!
Comments on Facebook