Editorial: Tough decisions, uncertainty ahead
Wednesday Mar 25, 2020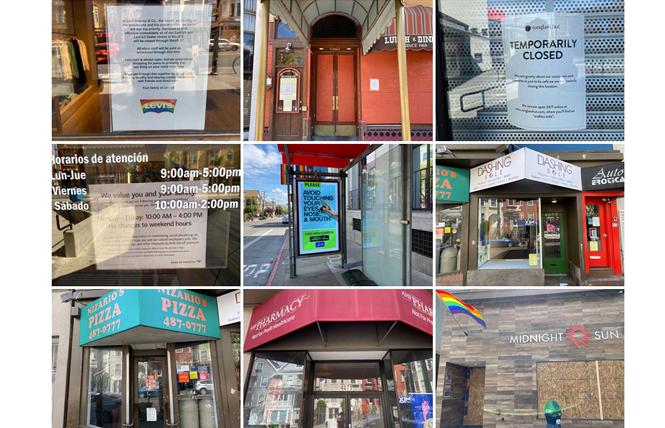 None of us have ever seen anything like this. Neither the AIDS epidemic, 9/11, the dot-com bust, nor the 2008 financial crisis posed an existential threat of comparable scale facing individuals and economies. The coronavirus pandemic is a lethal combination of public health crisis and economic free-fall. The Bay Area transformed from a bustling region to a ghost town in less than a week, after the region and Governor Gavin Newsom ordered all non-essential workers to stay home.

The economic devastation is plain for all to see. Many stores have been forced to close; the ones that remain open have few customers. Bars, restaurants, and clubs, once the vibrant center of queer culture, have gone dark. Many of their workers have lost their jobs and it is uncertain whether those businesses will reopen.

To put it bluntly, we are all facing enormous challenges to survive. The Bay Area Reporter had to make some major changes quickly in order to adapt, because print advertising (our primary source of income) plummeted by about 90% in two weeks. That has resulted in two staff layoffs and a reduction in the amount of work we accept from freelancers. More changes may be ahead. We just don't know. Decades ago, a typical issue of the B.A.R. was 32 pages — just for the news section. We haven't been at that level in 20 years. More typical is a 24-page issue combining news, arts, and nightlife. Today's issue is 16 pages total.

A March 19 article on Nieman Lab's website painted a stark picture for alt weeklies (free community papers that rely on print advertising). Several have shuttered in the past week, while many others are asking for donations. Author Joshua Benton pointed out that in addition to the steep drop in ad revenue, the other problem for free publications is that distribution locations, like bars, restaurants, and neighborhood shops, have closed: as the story noted, social distancing has dried up our revenue stream. "It's entirely unclear whether 'normal' is two weeks away, two months away, or two years away," Benton wrote. "And when cities do recover, will those institutions alts rely on — those arts venues, those theaters, those restaurants — be in any kind of shape to help?"

The answer in San Francisco is a qualified maybe, as all levels of government mobilize aid for workers and employers suddenly confronting economic ruin. Mayor London Breed and city leaders recently launched an arts relief fund to help local artists and small- and mid-budget sized arts organizations and cultural nonprofits. Kicked off with $2.5 million in city funds, the program is a combination of grants and low-interest loans that will help, but much more is needed. For small businesses, the city has announced the SF Small Business Resiliency Fund for eligible companies. The federal government is also working on a relief package, as are state lawmakers, including gay state Senator Scott Wiener (D-San Francisco).

In the meantime, the B.A.R. will be delivered to news racks on city streets. Visit ebar.com where we've posted more breaking news and online-only stories than ever before — sign up for our newsletter for updates at http://www.ebar.com/subscribe

Our online readership has been steadily increasing, up to over 120,000 unique visitors monthly; but it cannot entirely replace the revenue of print advertising. If you work at a company that can financially take out an ad in your local LGBT publication, now's the time. We will soon be announcing a fundraising campaign to cover printing, distribution, and content costs. The B.A.R. made it through previous crises, and we intend to survive this one with your help.
Comments on Facebook