Online Extra: LGBTQ Agenda: Survey shows majority supports sex work decriminalization
Thursday Jan 30, 2020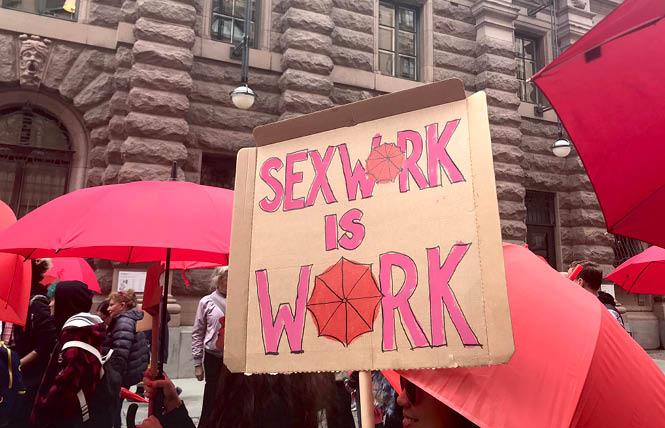 Fifty-two percent of Americans support the decriminalization of sex work, according to a survey whose results were announced by the National Center for Transgender Equality Thursday.
The survey — of 1,029 voters with a margin of error of 3.8% — was conducted in November 2019 by YouGov Blue, which does polling for Democratic and progressive clients, on behalf of Data for Progress, a progressive think tank.
Broken down by party preference, 64% of Democrats supported decriminalization, while 22% were opposed, and 14% were unsure. Thirty-seven percent of the GOP was for decriminalization, while 54% were opposed, and 9% were unsure.
Among independents, 55% were for decriminalization, 25% were opposed, and 20% were unsure.
Nina Luo, a fellow at Data for Progress and the author of the study, said in a phone interview with the Bay Area Reporter January 30 that when something passes 50% support it's an "exciting number."
"As any policy strategist or candidate will tell you, going from below to above 50 is huge," Luo said.
Luo said the last poll on this topic, in spring 2019, showed 45% support for decriminalization — but she clarified that poll had a "neither support or oppose" option.
"Still, plus seven is a big change," she said.
Other organizations involved with the report included the American Civil Liberties Union, the Center for Constitutional Progress, and the Human Rights Campaign.
When the issue moves to vice policing of sex work, 49% support ending undercover stings and raids compared to 35% who support continuing them. When that question was asked, the difference among Republican voters went from a margin of 17 to a margin of 6 (40%-46%).
"There's been a lot of movement on this issue," Luo said.
Decriminalization of sex work has become a hot-button issue in recent years. Democratic presidential contender Senator Elizabeth Warren (Massachusetts) said in October she was "open" to decriminalization.
"Sex workers, like all workers, deserve autonomy and are particularly vulnerable to physical and financial abuse," Warren said.
She and other lawmakers nonetheless faced criticism for voting for a law two years ago that forces who want sex work decriminalized say did just that.
The Stop Enabling Sex Traffickers Act (SESTA) and the Allow States and Victims to Fight Online Sex Trafficking Act (FOSTA), which were signed into law by President Donald Trump in 2018, outlawed sites such as Craigslist personals that many sex workers used to pick and choose their clients.
It had passed with near unanimous support in the Senate, with only Senators Rand Paul (R-Kentucky) and Ron Wyden (D-Oregon) voting against it.
Luo said that the reaction to SESTA/FOSTA has led to a lot of the current advocacy around sex work decriminalization.
She compared the impact of SESTA/FOSTA on sex workers to "showing up to work and finding it has been burned to the ground," saying that many sex workers went homeless as a result.
"SESTA/FOSTA was a bad bill," she said. "In some ways, SESTA/FOSTA was the catalyst, but we have had a lot of bad bills.
"You see articles about sex work every day now, which you didn't two years ago," she added.
Warren has joined Wyden and Bay Area Representatives Ro Khanna (D-Fremont) and Barbara Lee (D-Oakland) in introducing the Safe Sex Workers Study Act, which will look at the impact of SESTA/FOSTA on the sex worker community.
"For far too long, SESTA/FOSTA has demonized and harmed sex workers," Lee said in a news release when the act's introduction was announced last month. "Instead of preventing sex trafficking, SESTA/FOSTA made it harder for sex workers to access critical health and safety resources. We need the full picture."
On the state level, Senate Bill 233 became law earlier this month in California. Introduced last year by gay state senator Scott Wiener (D-San Francisco), SB 233 prohibits law enforcement from using condoms as evidence of sex work and provides prosecutorial immunity to sex workers who are witnesses to serious or violent crimes.
(The B.A.R. reported in 2013, that before the state law, San Francisco police had a temporary policy in place documenting condoms as evidence of prostitution.)
Up to 60% of sex workers experience violence at work, with one-third reporting a physical attack during sex, according to a 2014 joint study conducted by St. James infirmary and UCSF.
Critics of SB 233 say that the new law makes it more difficult for police to stop sex trafficking operations.
The California District Attorney's Association called it "bad public policy" last summer.
"There are already sufficient measures in place to protect these individuals, and this measure protects the buyers of sex trafficking as well as the workers," according to a statement from the association.
Wiener disputed that in a news release issued after Governor Gavin Newsom signed his bill last July.
"By enacting SB 233, California is sending a powerful message that we value the health and safety of sex workers," Wiener stated. "When sex workers believe that reporting violent crimes or carrying condoms will get them arrested, they simply won't take these steps, and we will all be less safe as a result. We need to create every incentive for sex workers to report crimes and to protect themselves and their clients from HIV and other sexually transmitted infections. SB 233 moves us in that direction."
LGBTQ Agenda is an online column that appears weekly, usually on Tuesdays. Got a tip on queer news? Contact John Ferrannini at j.ferrannini@ebar.com
Comments on Facebook