Gilead antitrust case gets 2022 start date
Wednesday Jan 22, 2020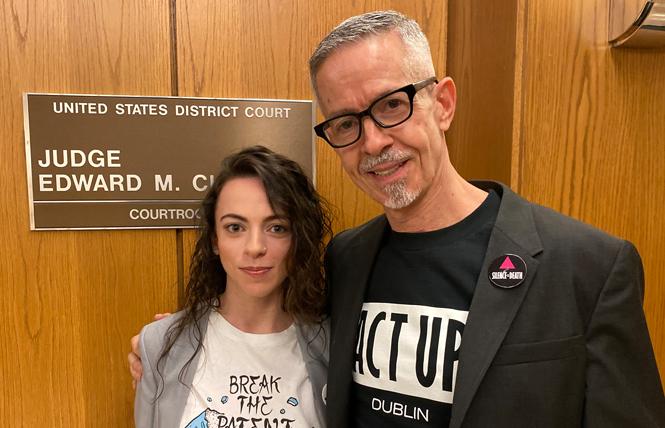 A trial date has been set for the antitrust lawsuit brought by advocates and people living with HIV against Gilead Sciences Inc., and its partner companies.
At a January 16 hearing in San Francisco, U.S. District Judge Edward Chen set a trial date for early 2022, after asking questions related to Gilead's request to dismiss the complaint.
The class action lawsuit alleges that Gilead and it co-defendants — Bristol-Myers Squibb, Janssen (part of Johnson & Johnson), and Japan Tobacco — attempted to establish a monopoly in HIV treatment by agreeing to combine their antiretroviral medications into exclusive coformulations. These single-pill combination regimens increase convenience and potentially improve adherence.
Lead plaintiff and longtime advocate Peter Staley characterized the two-hour hearing, which several supporters attended, as "incredibly tense."
"Even though we got grilled by Judge Chen, I remain optimistic," Staley told the Bay Area Reporter. "I can't imagine he'll allow a precedent to be set whereby pharma companies can use joint ventures to corrupt our country's patent system by keeping generics off the market."
Gilead's tenofovir disoproxil fumarate and emtricitabine are the common ingredients in the first generation of single-tablet regimens for HIV treatment, as well as the widely used PrEP pill Truvada. Gilead's updated tenofovir alafenamide and emtricitabine are included in several newer all-in-one coformulations and the recently approved PrEP pill Descovy.
The crux of last week's hearing was whether the agreements were, as the defendants argued, an "ancillary" or necessary part of a joint business arrangement, preventing the parties from creating their own products that would directly compete against those of the collaboration. The plaintiffs countered that the agreements went beyond what was necessary, aiming to stifle competition from generic alternatives even after the medications' patents expired.
"Gilead claims these clauses are just 'ancillary restraints' — necessary for the partnerships to work. We think that's bull," Staley wrote in a Facebook update about the hearing. "[Gilead] used the agreements to keep combo pills with generic components off the market, raising antiretroviral combo pills to obscene prices and then sharing these inflated profits with its co-conspirators."
The plaintiffs have asked that the collaboration agreements be rewritten and that Gilead make a generic version of tenofovir alafenamide available sooner than the current patent expiration schedule, according to Staley.
Gilead's lead attorney, Christopher Curran, said that the agreements were "nothing unusual," and that restraints are needed to prevent collaborators from "free riding" on the joint venture. He added that the government encourages such ancillary restraints because they support efficiency and encourage the creation of new products.
Curran likened the agreements to lawyers agreeing not to compete against other attorneys in their own law firm. The plaintiffs' lead attorney, Mark Lemley, suggested they were more like members of the Bar Association of San Francisco colluding to set prices.
The two sides also argued about whether there was an "overarching conspiracy" involving all the named companies. Lawyers for Japan Tobacco (which licensed its drug elvitegravir) and Johnson & Johnson claimed they were only peripherally involved.
After the initial hearing last September, Gilead issued a statement reading in part, "Gilead believes this lawsuit and its antitrust allegations are without merit. ... The allegations against Gilead are misguided and do not accurately reflect antitrust laws or Gilead's history of innovative collaboration and competition in HIV medicines."
Gilead spokesperson Ryan McKeel told the B.A.R. after the latest hearing that the company had no further comment beyond the earlier statement.
Chen is expected to make a decision about the motion to dismiss in one to three months, according to Staley. The judge set a trial date of February 28, 2022. In the meantime, he instructed the parties to move forward with providing relevant documents and taking other steps to prepare for a jury trial.