Roz Joseph, known for photographing drag queens, dies
Wednesday Jan 22, 2020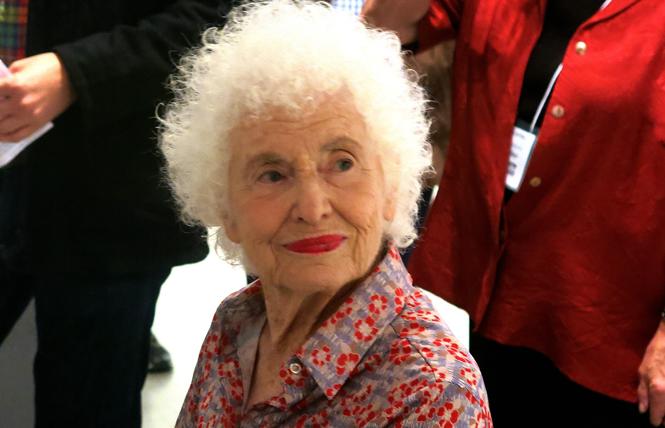 Roz Joseph, a San Francisco fine-art photographer whose work in the mid-1970s documented the local drag scene, died December 25 at her Russian Hill home in San Francisco. She was 93.
The cause was atherosclerotic cardiovascular disease, her family said.
Ms. Joseph's images captured the pageantry and creativity of the Imperial Court, Polk Street Halloween parties, the Castro Street Fair, and the Gay Freedom Day Parade (as it was known then) from 1973 to 1978. The photographs received limited exposure at the time — but were rediscovered and attracted national attention when they were the subject of a one-artist show at the GLBT Historical Society Museum in 2015-2016.
The exhibition, "Reigning Queens: The Lost Photos of Roz Joseph," curated by historian Joey Plaster, notably earned a glowing notice in New York magazine, where queer cultural critic Hugh Ryan wrote, "The liberating rush of pride, as embodied by the gorgeous queens of the Imperial Court, delighted Joseph. Although she was straight, she was soon a staple at drag balls, bars, and public events, and she became a friend and advocate for many of the men she photographed."
According to historian Don Romesburg, professor of women's and gender studies at Sonoma State University, several galleries in California and Oregon showed the photographs in the 1970s. In the early 1980s, Ms. Joseph also hoped to publish a book bringing together the images, interviews she had done with the drag queens she portrayed, and an introduction she had written. No publisher she approached would touch the subject, so she filed away the work for nearly three decades before meeting Romesburg and giving the materials to the historical society in 2010.
Born Rosalind Malamud on June 30, 1926, in the Bronx, Ms. Joseph received a bachelor's degree in education in 1947 from City College of New York, where she subsequently pursued post-graduate courses in art and photography. In 1948, she married advertising professional, nonprofit executive, and writer Elliott Joseph. The couple lived in Paris in 1950-1951, then returned to New York.
In her hometown and during extensive travels in Europe, North Africa and elsewhere, Ms. Joseph found people and places to capture in black and white. Some of her images recall the great French photographer Henri Cartier Bresson, and all reflect her eye for composition, the built environment, and human stories. One of her shots received the 1963 Saturday Review Photo Prize. While continuing her work as a photographer, Ms. Joseph also developed a career in higher education, ultimately serving as executive assistant to the chair of the CCNY Psychology Department.
In 1970, Roz and Elliott Joseph moved to San Francisco, settling in a Russian Hill apartment with a spectacular view of the Golden Gate Bridge. Not long thereafter, Ms. Joseph changed her focus to color photography and turned her lens to documenting the city's vibrant drag queens and colorful buildings. She dubbed the architectural work her "City Art" series — and it made her name, leading to museum and gallery shows, magazine publications, and ultimately a monograph, "Details: The Architect's Art" (Chronicle Books, 1991).
Ms. Joseph also continued her work as an administrator, advancing to the post of senior management assistant at the San Francisco Department of Social Services. Following her retirement from civil service in 1988, she devoted herself full-time to photography, with her images of buildings, landscapes and flowers appearing in calendars and on greeting cards. She and her husband also continued traveling widely into the 2000s. After Mr. Joseph's death in 2014, she stayed closer to home, supported by her nephews, her niece, and her friends.
One of Ms. Joseph's nephews, Rob Kellar, who lives in San Francisco, recalls her as "a very modern person who formed an adventurous and unusual couple with my uncle. They both pursued careers — with Roz doing it at a time when it wasn't common for married women. And they had a very intellectual life, lots of intellectual friends, and loved meeting the younger generation."
Kellar added that Ms. Joseph also relied on "four or five close friends, especially in her later years, who were gay or lesbian."
In addition to Kellar, she is survived by four other nephews and one niece. According to Kellar, Ms. Joseph's heirs have donated further photographs and files from her 1970s drag series to the GLBT Historical Society. Vintage prints of her architectural images are available from the Lost Art Salon in San Francisco.
Gerard Koskovich is a queer public historian, curator, and rare book-dealer based in San Francisco. He has curated exhibits at the GLBT Historical Society.
Comments on Facebook