Updated: Loftus loses lead in DA race; Boudin has 156-vote edge
Wednesday Nov 6, 2019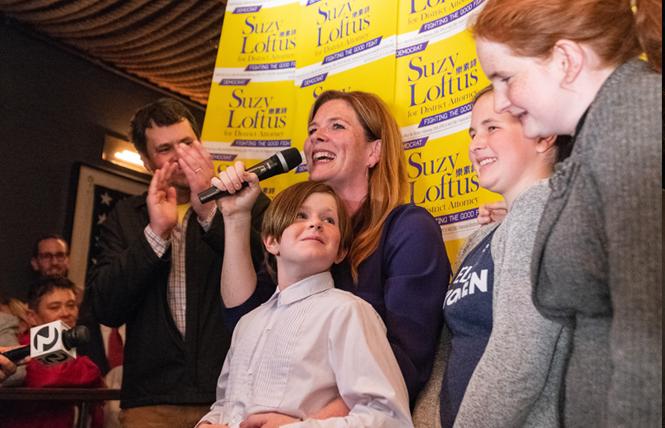 Deputy public defender Chesa Boudin opened up a slim lead against interim DA Suzy Loftus in the hotly-contested race for San Francisco district attorney, preliminary results released Friday show.


The new tally, issued at 4 p.m. November 8, has Boudin at 50.05% and Loftus at 49.95%

Neither candidate immediately issued a response Friday.

On Thursday, Loftus maintained a slim lead and said, "I'm hopeful that our vision for a safe and just San Francisco will continue to sway voters in our direction."

In a Thursday tweet, Boudin wrote, "Our lead is bigger than it has ever been, and we expect it to grow over the coming days."


Our lead is bigger than it has ever been, and we expect it to grow over the coming days.

Our focus right now is on ensuring every vote is counted.

We are so humbled by the number of people continuing to believe in fundamental change.

Our movement is strong.— Chesa Boudin ??? (@chesaboudin) November 8, 2019
Earlier Wednesday, Loftus had a slim lead of 240 votes over Boudin, according to unofficial results from the Department of Elections. That lead increased to over 2,000 votes late Wednesday, but narrowed Thursday, making the race too close to call.
Loftus, former president of the San Francisco Police Commission, was endorsed by much of the city's political establishment — including the Democratic County Central Committee, Mayor London Breed, and former San Francisco District Attorney Senator Kamala Harris, now a U.S. senator and Democratic presidential candidate. Boudin is a progressive challenger, a public defender whose parents went to prison themselves. He was endorsed by Democratic presidential candidate Senator Bernie Sanders (I-Vermont) and gay former state senator Mark Leno (D-San Francisco).
The DA's race had been the first one without an incumbent in over a century — until District Attorney George Gascón resigned last month to run for the same seat in Los Angeles, and Breed appointed Loftus as the interim district attorney. Rounding out the field were Alameda County prosecutor Nancy Tung and California Deputy Attorney General Leif Dautch.
Loftus' election night party was held at Churchill, a World War II-inspired bar in the Duboce Triangle neighborhood. Crowds were enthusiastic when the first round of results showed Loftus opening with a lead over Boudin — and maintaining it after several rounds of ranked-choice numbers were run.
But then the race tightened. As of press time, Loftus had 50.13% of the vote, followed by Boudin with 49.87%. In third and fourth places were Tung and Dautch, respectively.
Paul Henderson, a gay man who is the head of the Department of Police Accountability, said late Tuesday that the close results were "shocking." He backed Loftus.
"I'm so close to Suzy; our families spent Thanksgiving together," Henderson said. "I believe a lot in democracy and I want folks to demonstrate with their voices. That's what it is — good, bad, or ugly we get what we choose."
Gay state Senator Scott Wiener (D-San Francisco) said he was "cautiously optimistic" for Loftus and for Vallie Brown, the District 5 supervisor who, like Loftus, was endorsed by the DCCC and is facing a tight race with progressive challenger Dean Preston.
Loftus and members of her family took the stage to congratulate campaign workers on a hard-fought race.
"We're cautiously optimistic," she said. "We have run an incredible campaign. Let me ask you this — who in this room made phone calls for this campaign? Raise your hand. Who in this room knocked on doors for this campaign? Raise your hand. Who in this room called, texted and emailed their friends and said 'You better vote for Suzy Loftus.'
"This campaign has been all heart and it's been all San Francisco," she added.
Boudin told the Bay Area Reporter in a phone interview on Wednesday afternoon that the campaign wasn't surprised at the margin. "We knew it was going to be close," he said.

"We're really excited and humbled that the largest number of San Franciscans picked us as their first choice," Boudin said. "We were building momentum and we knew more votes would come in on the later side."

He held his election night party at the SoMa StrEat Food Park where supporters were also cautiously optimistic.

Public defender
In the race for public defender, Manohar "Mano" Raju ran unopposed and won with over 99% of the vote, according to unofficial returns.

Breed appointed Raju to the position after the death of longtime San Francisco Public Defender Jeff Adachi in February. Adachi is widely credited with increasing the power and prestige of the public defender's office. Raju will now serve out the remainder of Adachi's term through 2022.

Raju, who has been with the public defender's office since 2008, said he wanted to cut down on the "macho" atmosphere at the office, increase diversity, and establish an integrity unit to investigate potentially unfair convictions, as the B.A.R. previously reported.

Updated, 11/6/19: This story has been updated with new vote totals.
Comments on Facebook