Henderson shakes up police oversight office
Wednesday Oct 23, 2019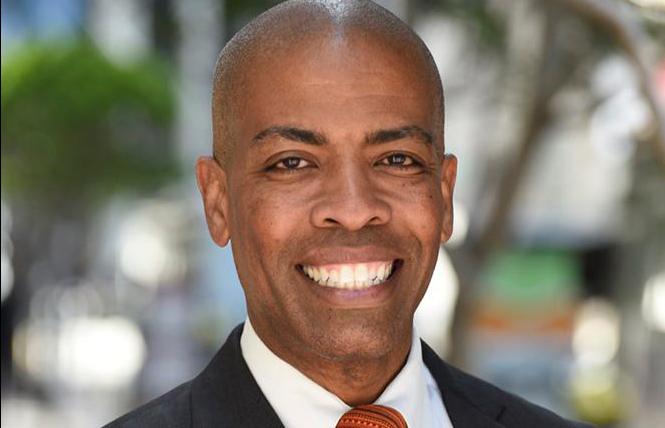 Paul Henderson has wasted no time modernizing the San Francisco Department of Police Accountability since becoming its permanent executive director.
Henderson, 51, a gay man who became the head of the agency on an interim basis in 2017 before being appointed by former mayor Mark Farrell and approved unanimously by the Board of Supervisors last year, said that he wants to lead a "model civilian agency."
The DPA is responsible for hearing and investigating complaints against San Francisco police. It is one of the few agencies of its kind in the nation that has "compelled authority," which means that the San Francisco Police Department has to cooperate with it.
"I think we are one of the models in the nation specifically because we do separate investigations (of police misconduct)," Henderson said in a phone interview with the Bay Area Reporter.
For the first time, the DPA is investigating all police-involved shootings, whether there was an official complaint lodged with the department or not.
"Believe it or not complaints aren't always filed," said Petra DeJesus, a lesbian who is a commissioner with the San Francisco Police Commission. "I'm looking forward to three investigations — DA, [SFPD] Internal Affairs, and DPA."
For the first time in the city's history, the DPA also now has oversight powers over the San Francisco Sheriff's Department in addition to SFPD. The sheriff's department is responsible for jails and security at the courts, City Hall, and some hospitals.
Henderson said that his department is working with SFPD to facilitate training for officers in areas such as language accessibility and implicit bias. He said that sometimes non-LGBT people don't pick up on the differences and distinctions among sexual minorities.
"People come in and don't understand. 'Everything is gay,'" Henderson said. "But it's not, there are subtleties. There may be a difference between a gay complaint and a trans complaint and you have to understand that to understand what they're talking about."
Samara Marion, a lesbian who is a policy director with the DPA, said that the department provides quarterly recommendations to the police, which often include information about ways to improve trainings.
"I am in the process of completing the work on SFPD's training manual on domestic violence, which I worked on with a variety of community-based organizations and SFPD," Marion wrote in an email to the B.A.R. "We included a section on lesbian, gay, bisexual, queer, questioning, transgender, gender variant, nonbinary, and intersex that addresses the prevalence of domestic violence in LGBQQTGNI communities, the challenges that LGBQQTGNI victims/survivors may face and the myths of mutual abuse."
Marion said that she has been working on trainings in collaboration with the SFPD and community organizations for years. One 2014 video that she co-wrote, edited, and produced was about "detecting and overcoming language barriers," and focused on a "a domestic violence incident involving a Spanish-speaking victim and an elder-abuse incident involving a Cantonese-speaker."
Expanded options
Henderson has experience working within the criminal justice system. Prior to his post at the DPA, he served as deputy chief of staff and public safety liaison for former mayor Ed Lee. Prior to that, Henderson served as chief of administration for then-District Attorney Kamala Harris, who's now California's junior U.S. senator and a Democratic presidential candidate.
Henderson said that the ways people can make a complaint about potential police misconduct to the DPA have expanded and people have the option to do it in a police station, online (either signed or anonymous), as well as in other languages.
"If you're not doing all three of those things, I don't know how you are forward thinking in terms of public engagement," Henderson said about his department.
Henderson said he helped modernize the technology at the DPA, saying that when he started the agency was using an operating system from "the early 1980s."
"One of my first priorities was getting new software and hardware for people to do their work," he said.
DeJesus said she thinks the DPA is doing "a good job."
"(Henderson) has been very good and has enhanced the staff," she said. "I'm impressed with the people he has brought in."
One improvement that DeJesus said the DPA has made is with its annual report.
"We used to get reports with a bunch of numbers that people couldn't understand," she said.
Henderson said he wanted to make the reports more readable for the general public.
As the B.A.R. previously reported, in August, the Police Commission revised General Order 3.01 to add "several layers of accountability and oversight," according to a DPA news release.
One of these layers is that the DPA will be involved in any changes to police general orders.
This is important particularly now because all the general orders are being reviewed for potential revision on a recommendation from the U.S. Department of Justice.
DeJesus said that the federal government found that there were "too many" and "contradictory" general orders, and that times have changed such that some are no longer relevant.
"We have a schedule now," DeJesus said. "Everything is being reviewed."
The DPA will be notified of proposed general order changes and will have the opportunity to make its case to the Police Commission should the department have a disagreement with a proposal.
The DPA can also recommend its own changes to police rules.
Henderson said that a major focus on his department will be making sure older orders are brought up-to-date considering social advances in the intervening decades.
"The DPA will ensure the rules and regulations are up to date with current civil rights law, and that outside subject matter experts are consulted for every major change," he said in the press release.
On working with Henderson, Marion wrote to the B.A.R.: "It's NEVER dull or ordinary!!"
For more on the San Francisco Department of Police Accountability, including annual reports, visit https://sfgov.org/dpa/
Comments on Facebook