Online Extra: 'It seemed hopeless:' victim of attempted battery in Noe Valley speaks out
Friday Oct 18, 2019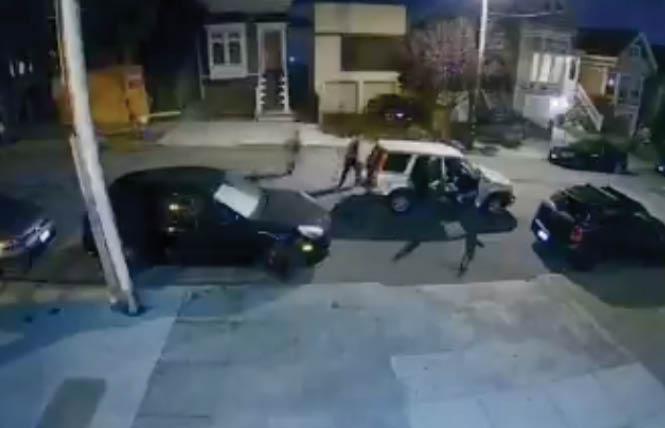 Two men were threatened with battery in two incidents Monday, October 14, by people wearing masks, just blocks from the Castro.
The first incident occurred at approximately 11:05 p.m. on Jersey Street in Noe Valley. The victim, who said he did not want to be identified because he is afraid the alleged assailants will return, wrote in an email exchange with the Bay Area Reporter that he was walking home when all of a sudden a car stopped behind him.
"Multiple car doors opened and I saw people with Halloween masks come out," he said. "It sent chills to my bones when I saw one holding a baseball bat."
The victim said that the one who stood out the most was wearing a Jack-o'-lantern mask "that had a sinister smile."
"All my brain told me was to run," he said. "They immediately all bolted at me and one said, 'it's goin down ni----.'"
Group of men wearing Halloween masks & armed with baseball bat chase victim down Jersey between Diamond & Castro in Noe Valley. You can hear the victim yelling for help It's one of 2 incidents Monday night under investigation by @SFPD pic.twitter.com/ripFo8hx5L— Henry K. Lee (@henrykleeKTVU) October 17, 2019
"It was the first time I ever thought I could be killed or receive irreversible head injuries," the man said. "I screamed on the top of my lungs as I was running from the group for help. It seemed hopeless."
The victim hid and tried to call 911, but had no cellphone service where he was.
"I saw someone walk toward me while I was on the 911 call and he offered if I needed help," he said. "Honestly, it felt like a horror movie running and hiding and I've had nightmares of running from people like that, calling for help. with no response available."
About 10 minutes later a similar incident happened at 26th and Sanchez streets, according to Officer Robert Rueca, a spokesman with the San Francisco Police Department. Another man was walking when people jumped out of a car after asking him a question. At least one of the men was wearing a mask and brandishing a baseball bat.
The victim, Matt Borg, discussed his experiences with NBC Bay Area Wednesday, October 16.
"No arrests have been made and these incidents remain open and active investigations," Rueca wrote in an email to the B.A.R.
Gregory Carey, a gay man who is the chief of patrol for Castro Community on Patrol, wrote in an email to the B.A.R. that he has "heard of a few serious assaults in the Castro (not so much Noe Valley) in the past few months, but cannot attribute them to hate motives."
"The ones we've investigated are more connected to people experiencing severe mental illness, and hate language or other signs of hate motives have not been brought to our attention," he wrote.
That said, Carey added that hate crimes are underreported and that the LGBT/SFPD Forum is in the process of planning a workshop "to discuss hate crimes and to encourage people who believe they were victims to file appropriate police reports."
With Halloween approaching, Castro regulars may remember that the huge street party that used to shut down traffic in the neighborhood was canceled in perpetuity after nine people were shot in 2006 in what was believed to be a gang-related incident.
The need for heightened security costs also aided in the 2016 demise of the Pink Saturday street party, which used to be held the day before the San Francisco LGBT Pride parade, according to Carey.
Carey urged members of the general public to call 911 in case of an emergency, ask the call-taker for the computer aided dispatch, or CAD, number to make it easier to follow up with a subsequent investigation, and contact Castro Community on Patrol if someone is uncomfortable working with the police or the district attorney's office.
"We cannot provide legal advice, but can help with the sometimes difficult conversation with authorities," he wrote.
For more information about Castro Community on Patrol, visit https://www.castropatrol.org/
Updated, 10/18/19: This article has been updated.
Comments on Facebook