Political Notebook: Lesbian California Senate candidate aims to make history
Wednesday Aug 7, 2019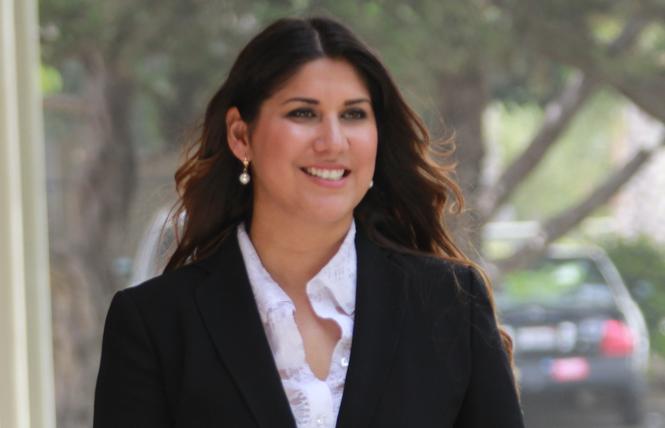 San Bernardino City Unified School District board member Abigail Medina came close in 2016 to winning an Assembly seat in the state's Inland Empire region. Following her defeat, she regrouped and won a hard-fought re-election campaign for her school board seat.
She then bided her time for the next opportunity to seek a state legislative seat. But in 2018 she opted against running again for the Assembly seat due to the personal issues she was addressing at the time.
Medina had come out of the closet as both queer and lesbian and was in the process of divorcing her husband of 23 years. She also landed a job as executive director of the Inland Region Equality Network, which advocates on behalf of the area's LGBT community.
Now, with state Senator Mike Morrell (R-Rancho Cucamonga) termed out of his 23rd Senate District seat next year, Medina has decided the time is right to once again seek higher office. She is one of two Democratic women to have entered the open Senate race, which has also drawn three Republican challengers.
Should Medina survive the March 3 primary and then capture the seat next November, she will make history as the first out woman of color elected to the state Senate. She could share the political pink-ceiling shattering achievement with lesbian Assemblywoman Susan Talamantes Eggman (D-Stockton), who is seeking the 5th Senate District seat currently held by lesbian state Senator Cathleen Galgiani (D-Stockton), as she is termed out of office next year.
Both Eggman and Medina are Latina, and if elected to the state Senate, not only would they be the first out women of color to serve in the Legislature's upper chamber, they would be the only LGBT senators of color serving in it. To date the only other out Senate candidates in 2020 are both white incumbents.
"People don't understand being an LGBTQ Latina there is a struggle," Medina, 43, told the Bay Area Reporter during a recent phone interview. "That is why I think it would be huge for Susan and I to be able to break those stereotypes and misconceptions and voice the concerns of who we are, and addressing all of our LGBTQ communities as well."
Last month, the seven-member Legislative LGBT Caucus endorsed Medina's Senate bid. This week, she secured an early endorsement from Equality California, the statewide LGBT advocacy group that is working to either maintain or increase the ranks of the legislative caucus next year.
"I'm both extremely honored and excited to represent my community in Riverside and San Bernardino County," Medina told the B.A.R. Tuesday about having EQCA's support in the campaign.
Medina's parents are both immigrants from Mexico. The oldest of three siblings, she was born in Torrance in Los Angeles County and was placed in foster care at the age of 7. She ended up living with her grandmother, who relocated them back to Mexico for a year.
After high school, Medina enrolled at San Bernardino Valley College. She never graduated, as she found it "very difficult" to study while raising her children. She now shares custody of her children with her ex-husband, though the youngest, a son age 15, lives with his father. Her second youngest, a daughter age 18, will be attending Cal State East Bay in Hayward this fall.
Coming out late in life came as a shock to her religiously conservative family, said Medina, whose divorce was finalized last year. She has been with her partner, Angelica Dalderas, since December.
"I lost all my family except for my mom and my sister," said Medina, who is now once again on speaking terms with her father. "In my Latino family, it was something you don't talk about. If you are (gay), you make sure nobody knows. It isolates you."
Between her work on school issues via the school board, of which she is currently president, becoming an advocate for LGBT issues, and having grown up with no health insurance, Medina argues she has the lived experience to be an effective legislator and representative for the Senate district.
"I don't come from money. I come from working-class community members," said Medina. "I am trying to make sure we are provided the same opportunities like everybody else: health care, clean air, clean water."
The 23rd Senate District includes all or parts of Banning, Beaumont, Big Bear City, Big Bear Lake, Cedar Glen, Calimesa, Cherry Valley, Crestline, Homeland, Hemet, Highland, Lake Arrowhead, Loma Linda, Menifee, Mentone, Nuevo, Phelan, Pinion Hills, Rancho Cucamonga, Redlands, San Bernardino, San Jacinto, Wrightwood, and Yucaipa.
It is a purple district, which Medina acknowledged presents challenges for a progressive candidate like herself. And being "a woman coming from an immigrant family is still an issue for some communities," said Medina, who is relying on her grassroots organizing skills to give her an edge in the race.
With a large chunk of the electorate centered in San Bernardino, where she has lived for years and already has high name recognition due to her past campaigns, Medina hopes to have a hometown advantage in the race.
"I feel like whoever has run in the past neglected areas of San Bernardino. I think it is time to have that voice at the table and making sure our needs are met," said Medina, who plans to hold a fundraiser soon in the Bay Area.
To learn more about Medina's campaign, visit www.abigailforsenate.com/.
Gay GOPer seeks CA House seat
Republican gay former San Diego councilman and failed mayoral candidate Carl DeMaio has entered the 2020 race for the California House seat held by disgraced Congressman Duncan Hunter (R), who is battling charges he misused campaign cash for affairs with several women.
DeMaio officially launched his campaign Monday for Hunter's 50th Congressional District seat, and in doing so, stepped down from his radio show he had been hosting. In 2014, he came close to winning the seat and garnered headlines for featuring his male partner in a campaign video.
He faced his own political scandal, as two former campaign aides accused him of sexual harassment. DeMaio denied both charges, neither of which were ever substantiated by law enforcement officials. One of his accusers pleaded guilty to trying to frame his former boss with fake emails.
Last year, DeMaio led the successful recall campaign against former Democratic state Senator Josh Newman due to his support for raising the state's gas tax. DeMaio came up short, however, in his attempt to repeal the gas tax increase last November, and Newman is now running next year to regain his seat.
Several other Republicans were already running against Hunter, who is under growing pressure to resign from Congress in the coming days so that a special election can be called to fill his seat. His trial is slated to begin in September, and if convicted, he would be forced out of office.
The unusual circumstances had given a boost to the campaign of Democrat Ammar Campa-Najjar, a relative unknown when he ran against Hunter in 2018. His having a winning shot at flipping the seat next year is a large reason why DeMaio jumped into the race and Republican former Congressman Darrell Issa is also considering doing so.
Should DeMaio win, he would be the first openly gay GOPer elected to Congress. And he would bring the number of out House members from the Golden State to three, as bisexual Congresswoman Katie Hill (D-Agua Dulce) and gay Congressman Mark Takano (D-Riverside) are both running for re-election next year, and so far, face no serious challengers.
Newsom names lesbian to CA vet panel
Governor Gavin Newsom has named lesbian retired Naval Commander Zoe Dunning to the California Veterans Board. The governor's office announced the appointment of the San Francisco resident to the statewide panel August 2.
Dunning, 56, served on active duty in the U.S. Navy Supply Corps from 1985 to 1991, and in the reserves from 1991 to 2007. She has worked as a change management consultant with various firms since 2005.
Currently, she is a member of the U.S. World War One Centennial Commission, the San Francisco Library Commission, and the advisory board for the nonprofit Vets in Tech. She must be confirmed by the state Senate and will receive a $100 per diem.
Web Extra: For more queer political news, be sure to check http://www.ebar.com Monday mornings for Political Notes, the notebook's online companion. This week's column reported on EQCA's endorsement process in the 2020 presidential race.
Keep abreast of the latest LGBT political news by following the Political Notebook on Twitter @ http://twitter.com/politicalnotes .
Got a tip on LGBT politics? Call Matthew S. Bajko at (415) 829-8836 or e-mail m.bajko@ebar.com.
Comments on Facebook