Political Notebook: Assist coming to address Castro retail vacancies
Wednesday Jul 31, 2019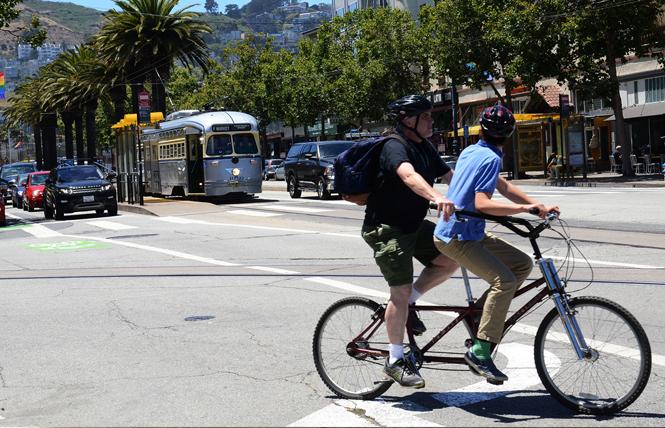 Local businesses looking to open in San Francisco's Castro district will soon be able to receive assistance in navigating the city's byzantine permit approval process.
At the request of community leaders of the LGBT neighborhood, gay District 8 Supervisor Rafael Mandelman secured $75,000 in the city's 2019-2020 budget to pay for a "Castro Commercial Corridor Manager." The position, expected to be part-time, is meant to help fill the numerous vacant storefronts throughout the Castro.
"There is one person in the Mayor's Office of Workforce and Economic Development who provides this service citywide to small businesses wanting to open up. It is a great service but demand is far greater than her ability to provide it," said Mandelman. "There shouldn't be a need to provide special assistance to get through the city's permitting process, but it often does."
Andrea Aiello, executive director of the Castro/Upper Market Community Benefit District, plans to seek the funding for the position when the city posts its request for proposals for it. She hopes the person can be hired by the end of the year.
"It will be somebody who helps expedite permits so small businesses don't have to pay for a permit expediter to help them get through planning," said Aiello.
A report released in March by the city's budget and legislative analyst found it takes a year for most businesses looking to open in the Castro to secure their permits from the planning department. Mandelman has criticized the zoning as "overly restrictive" and spearheaded changing the rules for storefronts along upper Market Street between Castro Street and Octavia Boulevard.
The commercial corridor has seen a wave of store closures in recent years. There are currently more than two-dozen storefronts either for lease or sitting dormant as businesses seek the permits they need to open.
The zoning changes will allow for arts uses and community-serving nonprofits to lease out sidewalk-facing storefronts in the area without the need for a conditional use permit. Stores and restaurants selling only beer and wine will also benefit as the city is relaxing the permits they need to receive prior to opening along upper Market Street.
At the same time for-profit health care clinics will find it harder to open on upper Market, as now they will need approval from the city's planning commission in order to do so if they are considered a chain retailer.
The Board of Supervisors gave their second and final approval to the changes Tuesday, and Mayor London Breed is expected to sign them into law. Once she does, likely as soon as Friday, they will take effect in 30 days.
"It will have an impact as soon as the next would-be restaurateur is taking a look at the feasibility of opening along upper Market," said Mandelman. "We just have to find those would-be restaurants and art gallery proprietors."
Aiello said the zoning revisions are "way overdue" and should help attract new commercial uses to the area.
"Zoning is really important. It is a tool in the toolbox to help bring more economic vitality to the business district," she said. "This stretch of upper Market has had some of the most strict zoning."
Aiello and Mandelman both told the B.A.R. they have yet to hear of any nonprofits or new restaurants looking to take advantage of the looser zoning rules. Ironically, one historic restaurant location on upper Market Street that could benefit from the changes isn't expected to return as a restaurant.
For decades various eateries had operated at the corner of 14th, Church and Market streets. A new mixed-use development with two ground floor retail spaces is set to open there in September, though neither is expected to house an eatery.
Developer Brian Spiers told the B.A.R. he is in talks with a non-restaurant use interested in leasing the larger of the two spaces at 2100 Market Street. He declined, however, to disclose the name of the business since nothing has been finalized.
One long vacant space on the corridor could soon see a business move in, as Mercy Housing is in talks to lease out the corner storefront in the LGBT-welcoming affordable senior housing development at 55 Laguna.
"The 'For Lease' sign is not up because we are in negotiation with a potential tenant for the space," Rick Sprague, a regional vice president with Mercy, told the B.A.R. this week.
Karyn Skultety, Ph.D., executive director of Openhouse, which partnered with Mercy on the development, said her agency would be interested in using the commercial space if those lease negotiations fall through. The nonprofit provides services to LGBT seniors and has it offices in the Bob Ross LGBT Senior Center at 65 Laguna.
While it will soon open 7,000 square feet of community space in the new building at 95 Laguna, Openhouse could utilize the empty storefront as well, said Skultety. She applauded the city changing the zoning rules in the area to make it easier for nonprofits to rent out ground floor retail spaces.
"I am strongly in support of changing zoning laws and making it more possible for nonprofits to utilize the retail space not only in our building but all along upper Market Street. We walk pass empty retail all the time, then I am in groups with other nonprofit directors afraid of losing their space or under threat of hefty rent increases," she said.
The zoning changes, added Skultety, are needed "both for the vitality of the streets and also support for our nonprofit community, which by the way holds this city together."
Sex-Positive SF Dem club is chartered
Members of the San Francisco Sex-Positive Democratic Club had reason to celebrate at this year's annual Up Your Alley fetish fair Sunday, as just days prior their political group secured official chartership from the local Democratic Party. The year-old club — believed to be the first of its kind in the country — aims to be a voice at City Hall for the polyamorous, queer, and kink communities.
By a voice vote at its meeting Wednesday, July 24, the Democratic County Central Committee approved the Sex-Positive Dems as the 35th sanctioned club for Democrats in the city. The only person to abstain from voting was the proxy for Senator Dianne Feinstein.
The club expressed its thanks to the DCCC for its support, and singled out in particular local party chair David Campos, a gay man and former supervisor, and third vice-chair Dr. Pratima Gupta, an obstetrician/gynecologist who is queer and oversees club chartering for the oversight body.
Those interested in joining the new club should visit its website at https://www.sfspdc.org/.
Web Extra: For more queer political news, be sure to check http://www.ebar.com Monday mornings for Political Notes, the notebook's online companion. This week's column looked at out congressional candidates running in California in 2020.
Keep abreast of the latest LGBT political news by following the Political Notebook on Twitter @ http://twitter.com/politicalnotes .
Got a tip on LGBT politics? Call Matthew S. Bajko at (415) 829-8836 or e-mail m.bajko@ebar.com.
Comments on Facebook