Online Extra: Political Notes: Few CA LGBT 2020 congressional candidates expected
Monday Jul 29, 2019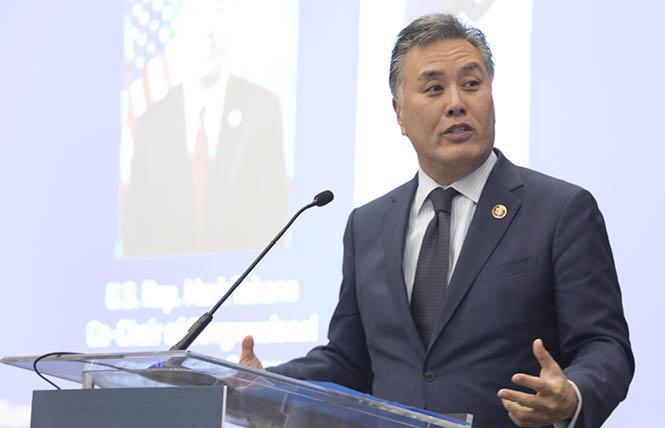 During the 2018 election cycle, five LGBT candidates were known to be exploring congressional runs in California. Four out Democrats qualified for the June ballot last year, with two seeking the same Southern California House seat.
Three advanced to the general election in November, with two securing victory. Gay Representative Mark Takano (D-Riverside) easily won re-election to his 41st Congressional District seat, while bisexual homeless advocate Katie Hill scored an upset against Republican Congressman Steve Knight, who lost his bid for re-election to the state's 25th Congressional District seat.
Takano and Hill (D-Agua Dulce) will both be seeking re-election in 2020. They may be the only out congressional candidates in California next year.
Because the state moved its primary, normally held in June, to March 3, 2020 in order to have a greater influence on next year's presidential nominating contests, candidates must file to run in California congressional contests by December 6. According to Equality California, the statewide LGBT advocacy organization, the only known out congressional candidates so far are Takano and Hill.
"We are not expecting any more out candidates for Congress," EQCA Executive Director Rick Zbur in a recent interview with the Bay Area Reporter.
Due to there being fewer Republican incumbents to challenge following last year's elections, and few open House seats on next year's ballot, there are not as many opportunities in 2020 for LGBT non-incumbents seeking to join the Golden State's congressional delegation, noted Zbur.
"We have Democrats in all these seats now," said Zbur of the blue wave that hit the state during the 2018 midterms and ousted seven Republican congress members from office.
EQCA has already early endorsed the septet of freshmen Democratic incumbents, including Hill, as their winning re-election will be key to the Democrats maintaining their majority in the House during the 2021-22 session. Four Republicans have formed committees to challenge Hill next year, and the race is sure to be a top priority for both parties as they compete for control of the chamber.
As for Takano, he likely will face token opposition for his seat and should be added to the list of EQCA's congressional endorsees in the coming months. The full list of EQCA's 2020 endorsements to date can be found at https://www.eqca.org/elections/. (Scroll down the page and click on the "Our Candidates" section header to see it.)
The LGBTQ Victory Fund has yet to endorse any congressional candidates in California running in 2020. Nor has LPAC, which is focused on electing LGBTQ women to public office.
Marge Doyle, a lesbian health care leader who lost her bid last year to oust Representative Paul Cook (R-Yucca Valley) from his 8th Congressional District seat, opted not to run again in 2020. She recently endorsed Democrat Chris Bubser, a straight married biotech veteran, in the race to represent much of California's eastern border, including parts of San Bernardino County and all of Inyo and Mono counties.
"Now more than ever we need a woman like Chris fighting for us in Congress," stated Doyle earlier this month in a news release from Bubser's campaign. "I encouraged her to run based on my knowledge that she deeply cares for this district."
Keep abreast of the latest LGBT political news by following the Political Notebook on Twitter @ http://twitter.com/politicalnotes .
Got a tip on LGBT politics? Call Matthew S. Bajko at (415) 829-8836 or e-mail m.bajko@ebar.com.
Comments on Facebook