News Briefs: Win a Harley motorcycle in Eagle Plaza raffle
Wednesday Jul 24, 2019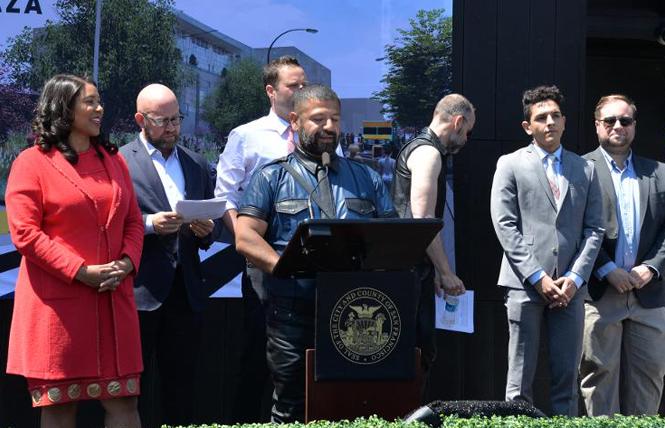 One lucky person at a benefit for the Eagle Plaza project in San Francisco's South of Market neighborhood could ride off on a new Harley-Davidson motorcycle if they hold the winning ticket in a raffle Saturday, July 27, ahead of the Up Your Alley street fair the following day.

For $11 per ticket, people will have a chance at four grand prizes: a 2019 Iron 883 demo Harley-Davidson, a trip for two to Mexico and a tequila tour, two separate International Mr. Leather 2020 platinum packages for two, and one package of two Lazy Bear tags for this year or 2020.

According to the website, the event is sponsored by the San Francisco Bay Area Leather Alliance and the Bears of San Francisco. The fundraiser runs from 2 to 7 p.m. at the Eagle, 398 12th Street. Grand prizes will be raffled off at 6, according to a news release. People do not need to be present to win, the website stated.

The plaza, a key element for the LGBTQ Leather Cultural District, will be located outside the Eagle bar and will be the world's first public parklet dedicated to the leather community.

Alex Montiel, an owner of the SF Eagle, and his late business partner Mike Leon, first envisioned the plaza six years ago. Build Inc., a San Francisco-based firm, agreed to pay for the majority of the parklet as a condition for securing approval of its housing development across the street from the bar. Under construction since last year, the 136-unit rental housing project cannot open to residents until the Eagle Plaza is built.

In an email, Montiel wrote that the fundraiser, though specific to Eagle Plaza, supports more than just the leather and LGBTQ community in the area.

"We are supporting the SOMA West CBD, the leather cultural district, and everything the city has dreamed about doing to promote greening," he wrote, referring to the community benefit district for South of Market.

"Supporting Eagle Plaza and our fundraiser now, and for the lifespan of the project, is a perpetual community investment to ensure our corner of the city truly represents our community," he added. "Eagle Plaza will stand as the centerpiece of the leather movement, a landmark to inspire future generations who visit the site to see that individuals working together can make a difference and tell their story for all to see — that our community no longer hides behind walls, inside bars, or down alleyways, but are right in the street."

Montiel, Mayor London Breed, Supervisors Matt Haney and Rafael Mandelman, and other officials broke ground on the plaza last month.

While Build is paying for most of the $1.85 million plaza project, the Friends of Eagle Plaza needs to raise about $150,000, and to date has brought in $80,000. Additionally, gay state Senator Scott Wiener (D-San Francisco) secured $100,000 for the plaza in this year's state budget.

Besides the raffle, the event will feature other prizes, vendors, games, food and drinks, and dancing.

For more information, including where to buy a raffle ticket, visit www.eagleplazaraffle.com.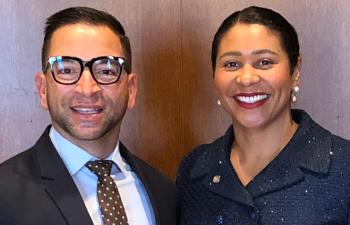 Loduca named to SF HRC
Mayor London Breed on Monday appointed gay city resident James Loduca to the San Francisco Human Rights Commission.

Loduca, who worked at the San Francisco AIDS Foundation for many years, left the agency to join Salesforce a couple of years ago. Last month, he announced on his Facebook page that he's accepted a job at Twitter.

In a statement to the Bay Area Reporter, Breed said that Loduca "has been an incredible advocate and leader for diversity and inclusion in San Francisco, both in his work in the business community and as a nonprofit leader."

"He does tremendous work reaching out to, and supporting, underserved communities in our city, and I know he will continue that work as a member of the Human Rights Commission," Breed added.

She said that during his time at SFAF, Loduca was central to the city implementing its Getting to Zero initiative to reduce HIV transmission rates, improve access to life-saving treatment and services, and the stigma surrounding AIDS.

"I'm proud that James will be bringing his passion, expertise and drive to our efforts to create a more equitable and just San Francisco," Breed added.

In a Facebook message, Loduca said he's looking forward to serving on the panel.

"This moment in human history calls on all of us to ask ourselves what more we can do to protect and promote human rights — and build a more diverse and inclusive future," he wrote. "Having loved and lived in this city for the majority of my life, it's an honor to be appointed to its Human Rights Commission. I look forward to serving San Franciscans in this important new role."

Loduca is married to Charlie Smith and the two are parents of a young daughter.

According to the mayor's office, Loduca replaces Eva Chan on the commission.

This week Breed also notified the Board of Supervisors that she's reappointing gay HRC Commissioner Mark Kelleher to a four-year term. He is the husband of city Treasurer and Tax Collector José Cisneros.

Horizons' grant application opens
Horizon's Foundation has announced its nonprofit community issues grant application process is now open.

This is the flagship funding program for the LGBTQ nonprofit and supports organizations in the Bay Area serving the queer community. According to its website, Horizons grants typically fund general operating costs or LGBTQ-specific projects in Alameda, Contra Costa, Marin, Napa, San Francisco, San Mateo, Santa Clara, Solano, and Sonoma counties.

In Horizon's latest community issues cycle, the agency awarded over $400,000, the website noted.

The deadline for applications is Monday, August 19 at 5 p.m. For more information, visit http://www.horizonsfoundation.org and click on "Community Issues Now Open."
Comments on Facebook