Tattoo you!
Tuesday Jul 16, 2019
What accounts for the popularity of tattoos across time and multiple civilizations? They're found on all continents, save for Antarctica. Some have even been discovered on Egyptian mummies and cave dwellers frozen in the tundra. Through the ages, they've served as a handy form of record-keeping, tribal markings, badges of masculinity, denotations of status and class, celebrations of events and declarations of love. Today they're everywhere, especially among Americans between the ages of 18 and 39, approximately 30% of whom have them. Their hold on millennials may explain why, in the last year or so alone, there have been two local museum shows on the subject.

Now comes #3, "Ed Hardy: Deeper than Skin," which opened last week at the de Young Museum. Widely regarded as the father of modern tattoo culture, Hardy's reputation on that score will no doubt lure many visitors, but he also created exceptional paintings and prints. Their tightly controlled compositions, faboo colors and meticulous attention to detail are rooted in his tattooing, which melds old school Western imagery, Japanese ukiyo-e era motifs and ancient Asian brush painting.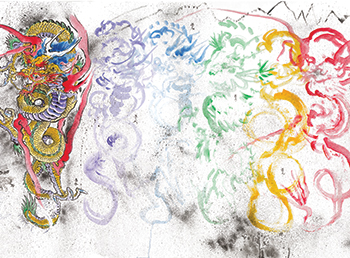 The big, expansive show is brimming with allusions to mentors and influences that shaped Hardy's sensibility, colorful characters like Bert Grimm, who tattooed Pretty Boy Floyd; Honolulu-based Sailor Jerry; and Phil Sparrow, a Bay Area author-pornographer-tattooist who gave Hardy one of his first tattoos and was well-known in the gay and leather communities in the 1950s and 60s. And there's lots of cool stuff on hand: a floor-to-ceiling wall of tattoo flash accompanied by a touch screen that enlarges individual images, videos of Hardy at work, numerous preparatory drawings, and a 500-foot-long Tyvek dragon scroll. While it's a bit much to take in, the exhibition succeeds at being both an introduction to the uninitiated and a wonderland for fans. Case in point is a chart highlighting factoids of 19th- and 20th-century tattoo history. For instance, did you know President Andrew Jackson was rumored to have a tomahawk tattoo on his thigh; Sitting Bull forcibly administered tattoos to the first tattooed lady, or so she claimed; and Popeye the Sailor began working his way into American consciousness as early as 1929?

Most of the show is devoted to the life and career of Hardy, a 74-year-old Southern California native credited with re-energizing the art-form and elevating it from its outsider, back-alley origins. A precocious lad who got an early start on his chosen path, he was drawing tattoos by the time he hit the ripe old age of 10. Photos and some of his sketches from the 1950s are stationed at the entry to the exhibition. As a kid, he was exposed to tattoo parlors on Long Beach Pike, an amusement area near his Corona Del Mar home, and when he was a teenager, he took cues from SoCal's hot rod and surf cultures. Years later, images of horned red devils, shooting the curl or riding the perfect wave, appeared in his prints and paintings; the mischievous streak remained a constant.
While attending SFAI in the mid-1960s, Hardy was introduced to the prints of Goya, Durer and Rembrandt, which led him to specialize in intaglio printmaking and eventually produce the fierce "butterfly woman" of "Lupe's Feast" (1992). His rendition of the 19th-century design includes punctured eyeballs, slabs of meat and a carving knife floating above the figure's head. "Mondrian's Girlfriend" (1997), a feminine, vintage-looking variation on the same theme, is displayed nearby.

In 1967 Hardy took a crucial step: he turned down a fellowship at Yale and opted to make tattooing his profession. He commemorated the decision with the etching "Future Plans (Leaving Art School)," a cocky self-portrait of a bespectacled young man who looks more like a mild-mannered science teacher than the iconoclastic artist he would become.

After spending six or eight months in Japan studying at the feet of a master, he returned to San Francisco and set up Realistic Tattoo, the first-ever by-appointment-only studio. His clientele ranged from lawyers and doctors to rockers, movie stars and the Hell's Angels, whom he met through actor Peter Coyote, who, you guessed it, has a coyote tattoo. In keeping with the shop's slogan "Wear your Dreams," Hardy collaborated with customers on designs for epic chest, back and full-body art. The show features photographs of the work emblazoned on actual people, and imagery projected onto a peculiar, androgynous mannequin.

Hardy branched out, painting on digital prints sealed with resin on panels and boogie boards, like one from 2007 with a gorilla head and go-go girl legs. For several large-scale pieces in "Skeleton, Skulls & Ghosts," a section featuring Gothic and Asian-inspired works from the 1990s, he used Mexican amate (bark) paper whose texture has the irregular properties of human skin. Hmm.

Don't miss two spectacular, vividly colored depictions of tigers on the move. In "Climber" (2011), an extraordinary lithograph recalling traditional Chinese landscape painting, a giant orange and black-striped cat ascending a dark scholar rock appears almost upside down from our vantage point; its sharp claws are out, and you can count the tiny white hairs on its paws. Another that rocks the joint is "Red Wind Tiger" (2010), an oil-painted print of a snarling scarlet predator with glowing eyes. Surrounded by yellow bolts of lightening, the swirling Op Art background receding as the animal advances in hot pursuit, one can feel the power of its body surging toward us. Wow!

Through Oct. 6. deyoung.famsf.org
Comments on Facebook