News Briefs: Last chance to help with pink triangle installation
Wednesday Jun 26, 2019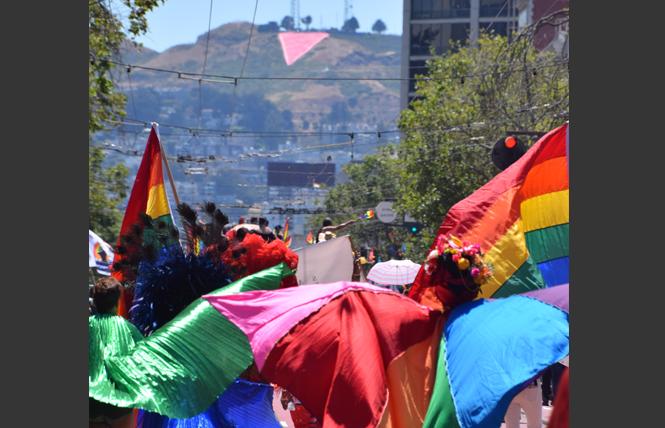 If you're undecided on whether to help create the giant pink triangle atop Twin Peaks over Pride weekend, it's not too late to sign up to volunteer.
As project co-founder Patrick Carney said in a recent news release, this year's 24th installation will be significant, coming on the 50th anniversary of the Stonewall rebellion in New York City. The 1969 riots between police and patrons of the historic Stonewall Inn are viewed by many as the start of the modern gay rights movement and will be honored throughout Pride weekend.
People looking for a hands-on Pride experience can sign up now to help create the triangle (or take it down at the end of Pride weekend).
Carney said in the release that it takes at least 125 people to install the tarps that make up the giant public art display, and about 50 to take it down. The pink triangle can be seen for miles if the weather is clear.
The main installation takes place Saturday, June 29, from 7 to 9 a.m. A ceremony follows at 10:30.
Carney said that confirmed speakers include Mayor London Breed; gay diplomats Hans-Ulrich Suedbeck, consul general of Germany, and Emmanuel Lebrun-Damiens, consul general of France; gay politicos state Senator Scott Wiener (D-San Francisco) and District 8 Supervisor Rafael Mandelman; fellow San Francisco lawmakers Assemblymen Phil Ting and David Chiu; some of the San Francisco Pride grand marshals and honorees; the San Francisco Lesbian/Gay Freedom Band (the city's official band); and musical theater star Leanne Borghesi.
The most difficult challenge is getting volunteers to help dismantle the pink triangle Sunday, June 30, from 4:30 to 8 p.m. after the Pride parade. Carney promised a free dinner at a Thai restaurant for those who help with the take-down.
All volunteers will receive pink triangle T-shirts, the funding of which was donated by the Bob Ross Foundation.
The reason Carney and others started the pink triangle installation was to remind people of the time when it was used by the Nazis in concentration camps to identify and stigmatize homosexual prisoners. The LGBTQ community has since embraced it as a symbol of Pride.
"Various speakers will point out that the kind of hatred that existed in the 1930s and 1940s still exists today — as in Chechnya, Indonesia, Iran, Iraq, Brunei, Jamaica, Saudi Arabia, and so many other places," Carney said in the release. "There is much to be done and education is the key. That's why the pink triangle is still being installed after all of these decades — it is a giant one-acre learning tool."
Volunteers should bring a hammer and gloves, wear closed-toe shoes, and wear sunscreen.
To sign up, for directions, or more information, visit www.thepinktriangle.com.
LaborFest coming up
The 26th annual LaborFest will be held in San Francisco next month, with lots of free or low-cost programs open to the public.
This year's theme is "Labor on the Edge: Dystopia or A Future for Workers."
According to organizers, the program schedule includes both international and local films and videos, labor history walks, a labor history bike ride, and more.
LaborFest will commemorate the 85th anniversary of the San Francisco General Strike of 1934. The impact of private ride-share services and the current gridlock, the role of technology on workers in the so-called gig economy, as well as local and global privatization on labor struggles will be featured in public forums, according to a news release.
Specific events include a forum at the California Historical Society on the 150th anniversary of the building of the Union Pacific Railroad and the contribution of Chinese workers; a screening of "Sorry to Bother You," a 2018 film by Boots Riley; and panel discussions on press freedom, whistleblowers (including the cases of Julian Assange, Chelsea Manning, and Bryan Carmody), and the corporatization of community colleges.
Events start Tuesday, July 2, and continue through July 31. For a schedule, visit the Facebook page at https://bit.ly/2Fq4iwh.
SF Maritime to hold labor programs
In other labor history news, the San Francisco Maritime National Historical Park will highlight the 1901 and 1934 waterfront strikes with programs next month.
A program on the 1934 strike will be held Friday, July 5, from 3 to 4 p.m. in the visitor center at 499 Jefferson Street (at Hyde). This year marks the 85th anniversary of the time three waterfront workers on strike were shot, with two of them killed, on July 5, 1934. Riots had broken out when city officials tried to open the San Francisco Port by force. Park ranger Peter Kasin will give a talk on what was the largest strike in West Coast history, and on its famed leader, Harry Bridges.
The 1901 strike will see a living history re-enactment Saturday, July 13, at noon (repeated at 2 p.m.) on the Hyde Street Pier. Representatives from labor and management will argue for and against the strike, followed by a march along Hyde Street Pier with picket signs. People can hear impassioned speeches and voice their own opinion.
Both events are free and wheelchair accessible.
For more information, contact peter_kasin@nps.gov or (415) 447-5000. For more information on the maritime park, visit http://www.nps.gov/safr.
Butch Voices returns to Oakland
Butch Voices, which enhances and sustains the well-being of all individuals who are masculine-of-center, will hold its 10-year anniversary conference August 15-18 in Oakland.
Organizers said that this year's theme is "The Legacy of Butch Voices." The group will also be commemorating the 50th anniversary of the Stonewall riots.
The conference will feature workshops, performances, films, spoken word, and networking opportunities.
The conference will be held at Oakstop, 1721 Broadway, Suite 201. Registration is $200 for a four-day pass, or $100 for Friday or Saturday day passes. Organizers said financial assistance is available for those who qualify.
For more information, look for street team members at Francisco Pride or visit https://bit.ly/2x9VCFK.
Comments on Facebook