Transmissions: The lines blur
Wednesday May 8, 2019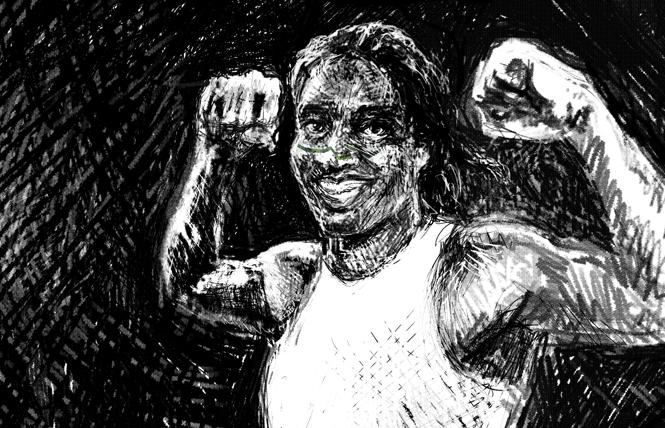 Caster Semenya is a lesbian South African middle-distance runner. She took home Olympic gold in both 2012 and 2016, and has won the world championships three times.
She grew up in the village of Fairlie, located in South Africa's Limpopo province. While she took up running to train for soccer, it's the former in which she has made her name. She started on a career of dominating races in 2008, taking home an impressive array of accolades — and more than a little controversy.
The International Association of Athletics Federations decided to investigate Semenya, 28, testing to determine that she was not doping, as well as to verify her sex. As a result, IAAF decided that Semenya had a "rare medical condition" that gives her an "unfair advantage."
It turns out that Semenya, while female, has a body that may provide her with some advantages in her sport. Having what experts are calling a difference of sex development, or DSD, Semenya displays characteristics of being intersex, producing a heightened level of testosterone than is typical in women.
As a result, IAAF has created a new rule to govern women with heightened levels of testosterone in their bodies, requiring athletes participating in the women's 400-, 800-, and 1500-meter races — not coincidentally the exact races Semenya would compete in — would need to medically lower their testosterone levels if they have too much of the hormone naturally occurring in their bodies.
Semenya is not transgender, but arguments about transgender people in sports have been used against her. Likewise, Semenya has also been used in arguments against transgender people in sports.
In the New York Times, Dr. Eric Vilain, a medical geneticist at UCLA, evoked this specter as far back as 2015, while discussing a sprinter from India named Dutee Chand. Chand, like Semenya, was also asked to take hormone-suppressing drugs in order to compete.
"For me, this is a victory of identity politics and activism," said Vilain. "Now I'm really worried about the future of women in sports because if we push this argument, anyone declaring a female gender can compete as a woman. We're moving toward one big competition, and the very predictable result of that competition is that there will be no women winners."
This is the same argument we have heard from others such as lesbian former tennis champion Martina Navratilova, who branded transgender people as cheats in comments she later walked back, adding, "[All] I am trying to do is to make sure girls and women who were born female are competing on as level a playing field as possible within their sport."
Semenya may not be transgender, but she is African, and that informs us about the opposition to her and her victories. In 2016, Joanna Jozwik came in fifth in a race Semenya won. In response, Jozwik declared that she was the "first European" and "second white" to complete the race.
Sharron Davies, another former Olympian, has taken trans athletes to task, and most certainly weighed in on Semenya in a deeply racist tweet.
"But the testing was not scientific just visual hence internal gonads were not seen," tweeted Davies. "Parts of Africa still are I'm afraid. Because they don't have access to the medical support to correctly diagnose. There are agents out there now looking for DSD girls to sign up!"
She later added, "There are more DSD cases in Africa than anywhere else in the world (often not properly diagnosed at birth) this of course is getting less as medicine gets wider access which is good."
It would be so easy to claim that the Semenya controversy is purely about gender and even, by extension, transgender issues, but we simply cannot divorce this from the importance of race in the equation.
One thing I try to remind myself of is that anti-transgender and gender essentialist views like those surrounding the Semenya story rarely exist in a vacuum. They are, rather, fed by other forms of bigotry. The lines blur.
Much of anti-trans sentiment is misogynist, based around the notion that women are somehow lesser, and the notion of transitioning to a woman is lowering one's self. By the same token, many who might think the former might also see trans men as some sort of impossibility.
Likewise, anti-trans views are often intertwined with anti-gay views, and vice versa. Norms and expectations of gender expression and sexuality identity are inexorably linked in the minds of those who oppose LGBTQ people. It's also worth noting that a lot of homophobia is borne out of toxic forms of masculinity that view anything even slightly gender transgressive to be a homosexual and trans behavior.
The religious right is tied up in all this too. Some are reportedly bankrolling a supposed offshoot of feminism that excludes transgender people. It makes sense, given they also push against abortion rights: both allow for levels of body autonomy that don't sit well for the modern evangelical movement.
In short, you'll rarely find a transphobe who isn't also bigoted in regard to race, sex, sexuality, and any number of other identities that aren't white, straight, and male — and this brings us back to Semenya.
The Court of Arbitration for Sport last week ruled against Semenya, and also found against the IAAF decision. In doing so, the court said, "DSD regulations are discriminatory but the majority of the panel found that ... such discrimination is a necessary, reasonable, and proportionate means of achieving the IAAF's aim of preserving the integrity of female athletics in the restricted events."
Discriminating is never the right answer, and in its ruling, the court has done quite the opposite when it comes to preserving integrity.
Gwen Smith wonders if Joanna Jozwik will get tested too. You can find her at www.gwensmith.com.
Comments on Facebook