Ridgely to leave SF Pride after parade
Monday May 6, 2019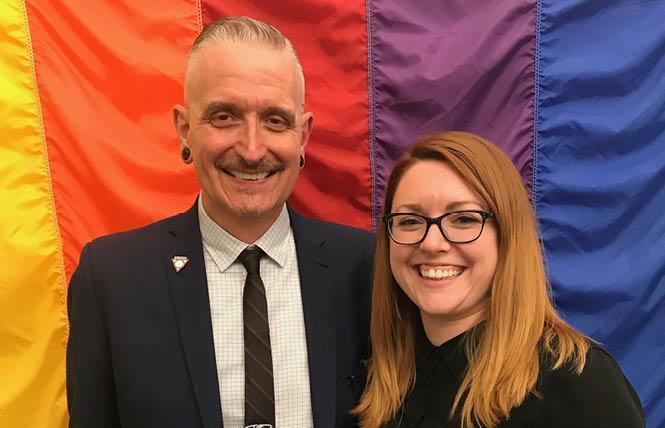 After five and half years in the position and six annual celebrations, San Francisco LGBT Pride Celebration Committee Executive Director George F. Ridgely Jr. has announced that this will be his final turn at the helm of the organization. He will leave after this year's parade and festival in late June.
According to a news release, Ridgely, a gay man, has accepted a position with the San Francisco Recreation and Parks Department, where he will manage permits and reservations. That job is expected to start in July.
Ridgely, 55, led SF Pride through a tumultuous yet successful period, including the withdrawal of organizational grand marshal Black Lives Matter in 2016 over the increased presence of police in the festival, and financial success in doubling Pride's annual budget during his tenure to $3.2 million in 2019.
The 2016 change in security protocols, including the addition of metal detectors at entrances to the celebration, was the result of the Pulse nightclub massacre in Orlando, Florida that killed 49 people. The mass shooting took place just a couple of weeks before the Pride parade.
Ridgely was hired in the wake of the controversy over the election of transgender community grand marshal Private Chelsea Manning in 2013. At the time, Ridgely said he supported the "democracy, accountability and transparency" platform then-board president Gary Virginia and other board members pledged to the community following outcry at both the old board's decision to honor Manning and its reversal. (Manning is an Army private convicted of espionage who had her sentence commuted by President Barack Obama shortly before he left office. She was jailed again in 2019 for refusing to comply with grand jury proceedings.)
According to the release, Ridgely steered the organization through a number of momentous occasions during his tenure. In 2015, San Francisco Pride was at the epicenter of celebration as the nation welcomed in legal marriage for all.
This year, SF Pride will join a global community in recognizing 50 years since the Stonewall riots in New York City, a seminal moment many consider one of the first actions in the modern LGBT rights movement.
In 2020, San Francisco will celebrate 50 years of Pride celebrations since the first commemoration in 1970.
"It has been the singular privilege of my life to lead this iconic organization along the path to its 50th year," said Ridgely in the release. "I am grateful for the broad support I have received, and I am humbled by the lessons I have learned. San Francisco is an emblem of strength, an incubator of resistance, and a beacon of hope for LGBTQ+ people around the world.
"This Pride organization, parade, and celebration is a true collection of thousands of voices; and we strive to be inclusive and inspirational," he added. "I thank all of those who had faith in me to serve as the executive director; and in my new role with Rec and Park I look forward to continuing to serve this great city that I love to call home."
The SF Pride Board of Directors expressed its gratitude for Ridgely's guidance and hard work over the years. It is planning a search for a new executive director to fill the role for next year's celebration.
According to SF Pride's 2016 Form 990, Ridgely's salary and benefits was listed $126,472.
The 49th annual Pride parade and festival will occur without interruption relating to this change in personnel. Pride will take place on June 29-30, with the parade happening Sunday, June 30, in the heart of downtown San Francisco at 10:30 a.m. A two-day celebration and rally is scheduled from noon to 6:00 p.m. Saturday, June 29, and from 11 a.m. to 6 p.m. Sunday, June 30, at San Francisco's Civic Center Plaza and the surrounding area.
For more information, visit www.sfpride.org.
Comments on Facebook