Online Extra: LGBTQ Update: Montana county denies trans-related health care to county attorney
Tuesday Apr 9, 2019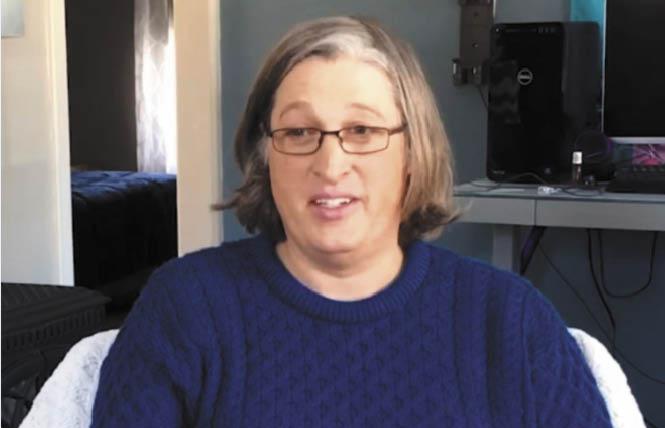 After Yellowstone County in Montana refused to pay for gender-affirming surgery for one of its deputy county attorneys who is a trans woman, the Montana Human Rights Bureau ruled last week that it discriminated against her, reported the Billings Gazette.
Eleanor Andersen Maloney had been a prosecutor who specialized in child abuse and neglect cases for the county attorney's office since 2017. She resigned last summer after being denied trans-related health care.
She began her transition in 2017 and worked with various therapists to decide the care that was best for her. Because gender-affirming surgery often has a yearslong waitlist, Maloney put her name on the list as an option for herself if she eventually chose it.
"It's life-saving to have access to gender-affirming care," Maloney said in a video interview produced by the American Civil Liberties Union Montana, which is representing her in the legal dispute.
The county denied Maloney's request, citing its health care plan, which excludes "services or supplies related to sexual reassignment and reversal of such procedures," states ACLU Montana's website. The county also asked for reimbursement from Maloney's therapist for her sessions. In the refusal, the county, citing the same policy, also claimed, "there is no federal or state law designating transgender as a protected class, therefore, Maloney has no viable claim of discrimination."
Gabriel Arkles, senior staff attorney with the ACLU's LGBT & HIV Project, said, "Gender-affirming health care is vital, often life-saving care. Here, the county interfered with Ms. Maloney's treatment for no reason other than gender bias."
For Maloney, the time after being denied health care coverage was tumultuous.
"I came out to my boss in 2017 and everything seemed to be going really well until early to mid-2018, when my therapist told me my insurance claims were being kicked back because it quoted them for gender dysphoria," she said in the video. "I was pretty terrified when that started to kick back."
In the video interview, Maloney said she gave her employer a formal written notice about a month before she left saying she was resigning because the county does not provide trans-related health care, in hopes that the county would change its policy.
"I didn't want to just leave. I loved my co-workers. I loved my job. I wanted to give them time to fix this and, at the same time, give them notice of what was going on," she said. "Up until the day I left this never happened."
Maloney and ACLU Montana filed a suit and it was reviewed by the Montana Human Rights Bureau, which enforces certain state and federal laws that prohibit unlawful discrimination.
According to ACLU Montana's website, in its finding, the bureau stated that, "if an insurance product carves out medical procedures, relying only on a person's status as transgender as the determinative criterion, this is a distinction based on sex and it violates the Montana Human Rights Act's insurance provision."
"It's very simple: discrimination on the basis of gender identity is illegal," Elizabeth Ehret, ACLU Montana attorney, said in a news release. "Yet, the only reason Eleanor was denied coverage for her health care was because of her gender identity. We are pleased with the findings of the Montana Human Rights Bureau and hope this leads to a change in Yellowstone County's policy."
The county now has 30 days to respond to the ruling. If the case is unable to be reconciled between the two parties, it will head to the hearings bureau for a formal hearing.
The Yellowstone County Commissioners office said it could not comment.
"The Board of County Commissioners does not comment on ongoing legal litigation," Commissioner Denis Pitman wrote in an email to the Bay Area Reporter.
The Yellowstone County Attorney's office and the Montana Human Rights Bureau did not respond to requests for comment from the B.A.R.
Texas Senate passes discriminatory anti-LGBT law
A bill that LGBT advocates are calling a "license to discriminate" was passed by the Texas state Senate April 2 after emotional testimony from various parties, reported the Texas Tribune.
Senate Bill 17, authored by Republican Senator Charles Perry, would allow occupational state licensed workers to cite religious belief when their license is being threatened due to their behavior or speech. According to the Human Rights Campaign, a national LGBT advocacy group, this includes teachers, firefighters, doctors, architects, funeral directors, building inspectors, social workers, counselors, psychologists, therapists, judges, veterinarians, pipefitters, auditors, and surgeons. The bill excludes police officers, doctors, and other medical-related professionals only in the case of providing life-threatening services.
"Today's vote on SB 17 marks a dark moment for Texas: the passage of one of the most broadly discriminatory bills under consideration across the country," Rebecca Marques, HRC Texas state director, said in a news release issued last week. "This bill would allow state-sanctioned discrimination against many Texans, but would particularly impact the LGBTQ community. Before the session began, Texas' elected officials promised to focus on key issues important to all Texans and not to revisit the fights of the previous session. Instead, it's legislative deja vu, as [Lieutenant Governor] Dan Patrick is pushing a discriminatory anti-LGBTQ agenda yet again. We implore the House of Representatives to not take up this harmful bill."
As well, the bill states that any state agency that issues licenses cannot "impose a policy that burdens an applicant's or a license holder's free exercise of religion, regardless of whether the burden is the result of a rule generally applicable to all applicants or license holders; or freedom of speech regarding a sincerely held religious belief."
According to the Tribune, the measure passed on a 19-12 initial vote. One Democrat, Senator Eddie Lucio Jr., voted no, while one Republican, Senator Kel Seliger, voted for the bill. Representatives from the local business community showed forceful opposition to the measure during a more than hourlong floor debate.
Various media outlets reported that Perry has claimed the bill is not meant to discriminate against any particular group, but instead to protect those with religious beliefs.
The bill is priority legislation for Patrick, whose spokesman told the Tribune, "Senate Bill 17 will ensure that anyone can practice their profession in Texas without being forced to compromise their religious faith."
Equality Texas, the state's largest LGBT organization, called the bill the "#1 threat to the LGBTQ community in the 2019 legislative session," in a news release.
"Dan Patrick has doubled down on his attack on the LGBTQ community, moving out of bathrooms and into every single licensed profession in Texas," said Samantha Smoot, interim executive director of the nonprofit, in a news release.
The bill requires one more vote in the Senate before it can be sent to the Texas House for debate.
Seliger and Lucio's offices could not be reached for comment.
Trans inmate in Idaho denied gender-affirming surgery
The 9th U.S. Circuit Court of Appeals in San Francisco is set to hear arguments in May for a case in which a trans inmate in Idaho was denied gender-affirming surgery by a state prison.
In December, U.S. District Court Judge B. Lynn Winmill ordered the Idaho Department of Correction to provide the surgery to Adree Edmo, a Native American trans woman who is being held in a men's prison, within six months.
The IDOC appealed the ruling that month.
The federal appeals court ruled Friday, however, that Winmill's initial ruling is stayed and IDOC does not have to provide the surgery to Edmo until the court says otherwise.
Lori Rifkin, who is co-counsel for Edmo, told the B.A.R. that the appeals court is fast-tracking the case. The lead attorney is Deborah Ferguson.
"In an extraordinary move, the 9th Circuit put us on the fast-track by expediting briefing and the hearing date in recognition of Ms. Edmo's serious and urgent medical need," Rifkin wrote in an emailed response. "The district court's order recognized that the Constitution protects everyone, regardless of race, sex, gender identity, sexual orientation, or any other protected status. The Constitution does not permit prison administrators to pick and choose which medical conditions to treat based on their own personal preferences."
Rifkin added that the May 17 court date for arguments means the court could still make a decision in the case before the original June 13 deadline for the surgery.
IDOC could not be reached for comment.
LGBTQ Update is a weekly online column addressing issues affecting the community. It runs weekly. Please submit comments or column ideas to Alex Madison at (415) 875-9986 or a.madison@ebar.com.
Comments on Facebook