PRC to open new space in SOMA
Wednesday Mar 20, 2019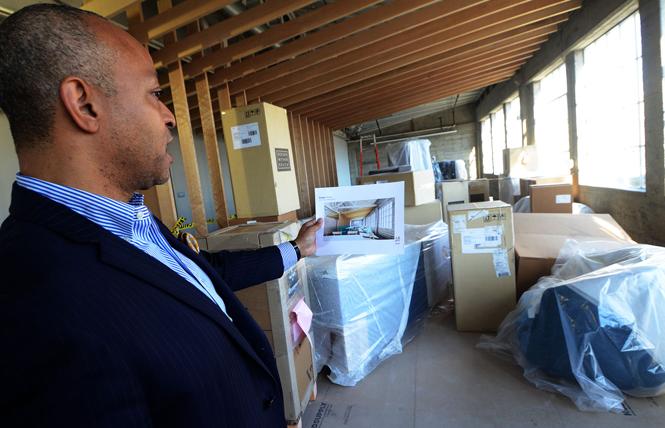 PRC will open the doors of its new integrated service center in San Francisco's South of Market neighborhood April 1.
The nonprofit will move into the 25,500 square foot building at 170 Ninth Street from its current location, 785 Market Street. The new space will allow PRC — and Baker Places and the AIDS Emergency Fund, which PRC took over in 2016 — to operate under one roof.
"This is the vision of PRC," CEO Brett Andrews said during a tour of the building with the Bay Area Reporter Monday, March 18. "We wanted this space to be comfortable, inviting, and welcoming for our clients and employees."
The nonprofit serves 5,000 people annually who are affected by HIV/AIDS, substance abuse, or mental health issues. Services include employment assistance and legal representation, and it has multiple locations throughout the city that offer residential treatment programs, rehabilitation, and supportive housing.
Three current administrative PRC locations in the city and one Baker Places location will be moved into the new Ninth Street location. It's been described as a one-stop shop by PRC staff. Andrews said that nearly 30 percent of PRC's clients use services from at least two of the three merged organizations.
"We went for an under one roof theme," Andrews said, pointing out an interior design feature found throughout the building of exposed wood beams that create the illusion of a roof.
The three-story building has an open floor plan, lots of windows, 40 client counseling and meeting rooms, a 34-person boardroom, and community spaces. The interior and exterior of the space is accented with the colors of the PRC logo, teal, dark gray, and orange. The exterior of the building will be dark gray with orange accents and lighting to enhance safety at night.
A large reception area will welcome clients entering the building with staff members ready to direct them to the right person. A 24-terminal computer lab will also be available to clients for job skills work. The space will be dedicated to four main areas: employment services, benefits counseling, emergency financial services, and supportive housing case management.
"We are not expanding our services, but integrating them and making them more efficient," Andrews said. "Instead of giving someone a business card at one of our locations and saying head here and hope they make it, we are making sure folks get to the right person when they arrive."
About 85 employees, one-third of PRC's workforce, will be based out of the new space. Each staff member will be equipped with their own laptop, enabling them to move freely inside the building. Andrews said he wanted to create a space where employees were encouraged to collaborate, innovate, and where they feel proud to be a part of PRC's mission. The staff will also have a lounge area with a fully equipped kitchen.
Each floor will have gender-neutral restrooms and there will also be a wellness/lactation room for men and women.
"We tried to think of everything we could to be supportive," Andrews said.
Location, location, location
The site in mid-SOMA was chosen for its central location, as 50 percent of PRC's clients live in the Tenderloin, SOMA, and Mission neighborhoods. The Art Deco building, erected in 1934, was once the home of the San Francisco Opera's costume manufactory. Once acquired by PRC in June 2018, the building was almost entirely renovated by architecture firm Gensler as well as Revel Architecture & Design. Gensler also designed Strut, the men's health and wellness center in the Castro that is part of the San Francisco AIDS Foundation.
For Andrews and those who work for PRC, the building is the start of a new chapter for the organization and one in which they can better serve their clients' needs. A former client of PRC's Joe Healy Detox Program is looking forward to the new building.
"I am very excited for the addition to the community," Donny Ades, a gay man, said in a phone interview. "[PRC] will be able to house so many programs in one place and give the public an opportunity to have a one-stop shop. A lot of services are kind of here and there and you have to go from one place to another. When you're an addict even getting down the street can be difficult."
Ades, who is in recovery, also spent 90 days in a Baker Places residential treatment program, and now lives in supportive housing run by Baker Places. He said the new location will "make a huge impact on the homeless community."
Andrews said he feels very fortunate to have found the building in San Francisco's hot real estate market. A 10-year lease was negotiated with two five-year options after that, allowing PRC to lease the building for up to 20 years. An option to buy the building was also included in the lease, something PRC plans to do after residing in the space for seven years, Andrews said, as purchasing the building will require a four-year capital campaign.
The total budget for the new space is $6 million. Andrews did not disclose the monthly rent of the building, saying there's a stipulation in the lease that prohibits it. He did say the rent was significantly less than the cumulative rent PRC was paying for the four locations that will now be at the new SOMA location. So far, PRC, with the help of individual and institutional donations, has raised about $5 million, with $2 million in requests to potential institutional and key donors.
A significant portion, almost $2 million, of the products and construction services have also been donated, Andrews noted. The nonprofit has a campaign, "Chair the Love," which allows people and organizations to contribute toward furniture costs for the Ninth Street building. The donations range from $150 to $30,000 for furnishing an entire room. The campaign has raised $11,000 to date.
Last year, PRC received a $62,931 grant from the city to help facilitate the move.
To donate, visit https://prcsf.org/.
Comments on Facebook