Queer artist tells stories of Tenderloin residents
Wednesday Mar 20, 2019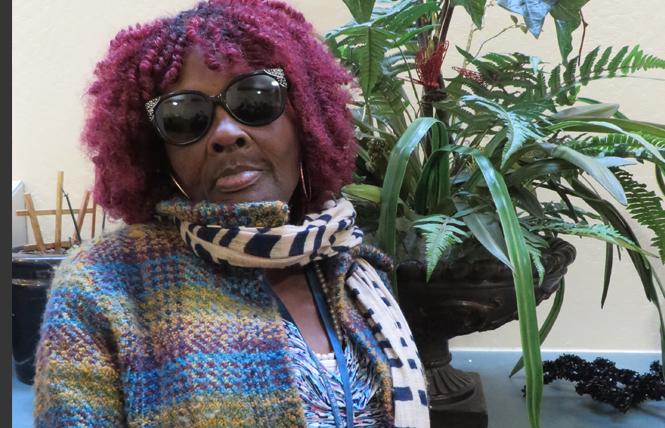 Dozens of vividly colored posters are now viewable in Muni bus shelters on Market Street between the Embarcadero and Eighth Street as part of the San Francisco Arts Commission's first Market Street Poster Series of the year.
Collectively titled "On Whose Shoulders," these posters, unveiled last month, were created by artist Lukaza Branfman-Verissimo to tell the stories of communities impacted by change along Market Street.
Her application to the arts commission proposed, "Stories of house-less folks, of the queer community, of artists of color and community activists, of the people whose roots the city of San Francisco was built on." Branfman-Verissimo, 25, identifies as queer, lives in Oakland, and is participating in the poster series for the first time.
The text in the posters is prominent and was derived from interviews with people living in the Market Street communities.
"I wanted to honor these people and honor their stories and lives," Branfman-Verissimo explained. Her posters aim to make visible the presence and resilience of struggling and overlooked communities.
The arts commission's website describes Market Street as "the city's largest and most colorful boulevard ... a location of constant action, where businesses, arts, and culture intermingle among a diverse population of locals and visitors." Capturing and celebrating that diversity is a conscious strategy of the poster series.
"As soon as I heard I received the commission," Branfman-Verissimo recalled, "I reached out to folks in my community and to organizations they run. I wanted to connect with the communities where the project would take place. For me, that meant my queer community and my community of artists and activists."
Starting last September, the artist interviewed people referred by the Transgender Variant & Intersex Justice Project, the Skywatchers Project, Hospitality House, and Compton's Transgender Cultural District.
"I had beginning questions," Branfman-Verissimo said, "but I was more interested in letting them speak." She worked with each person to select three or four sentences for each of the nine text-based posters. Background colors were chosen using the same collaborative process.
On February 16, Branfman-Verissimo organized the show's opening as a "community unveiling and walking tour" along Market Street, with an acoustic performance by Dr. Dreame, aka Gigi Godard, whose words provided the text of one poster.
Dreame, 69, is a transgender woman and part of a performance art group called Skywatchers, who perform around San Francisco, though mostly in the Tenderloin.
"Our performances include dancing, singing, and music about queer culture and black culture," Dreame said. "I was the only person (quoted in a poster) who got to perform at the show's opening."
Dreame's poster's text is: "I tell stories through sounds & words & character voices. This work gives me a purpose."
"It's nice to be able to see those posters on bus shelters," Dreame observed. "I've been here since 1999, did stand-up comedy years ago, was homeless for a while, then did regular office work until I retired." Dreame has lived in the Tenderloin since 2010 and said she transitioned in 2013.
Marilyn Michaels is another featured storyteller and heard about the poster series through Scott Chilberg, executive assistant at TGI Justice Project. Branfman-Verissimo reached out to the organization because, as Chilberg made clear, "Lukaza knew we were connected to the transgender community who live in the Tenderloin."
"I'm one of the few survivors of that time, the 1960s," Michaels pointed out. "I knew Uncle Billy's before it became Aunt Charlie's, and it was not always trans-friendly back then."
At least three posters on Market Street quote Michaels, all using this text: "The legend is ready to tell her story. I am a memory bank. When I was 14/15 years, I started coming to the TL. Starting dressing up — this is the life for me, it was paradise! & I'm not going anywhere."
Branfman-Verissimo was happy to discuss the political dimensions in her art.
"My work is centered around storytelling and is naturally political since it's about our own identities," she said. "The location of the series is a politically charged location. All of the complications that the tech industry brought to SF are side by side, and that ends up being very political."
Branfman-Verissimo also expressed how fortunate she felt to have her work presented in such a "hyper-visible location."
"I felt honored to speak with the incredible mix of people, mostly residents of the Tenderloin, and to understand the history of the city in a new way," she added.
"My posters prioritize trans elders in our community," she said. "It shouldn't be rare that we know their stories."
She hopes the posters enable visitors to San Francisco to "better understand the many layers of the past, present, and future that the Market Street corridor holds."
Branfman-Verissimo's posters will remain on display in Muni bus kiosks until April 30. This fall, she will show other work in the Arts Commission Gallery at 401 Van Ness Avenue in San Francisco.
Comments on Facebook