Bay Area Cannasseur: Vapor Room retains funky vibe at new location
Wednesday Mar 6, 2019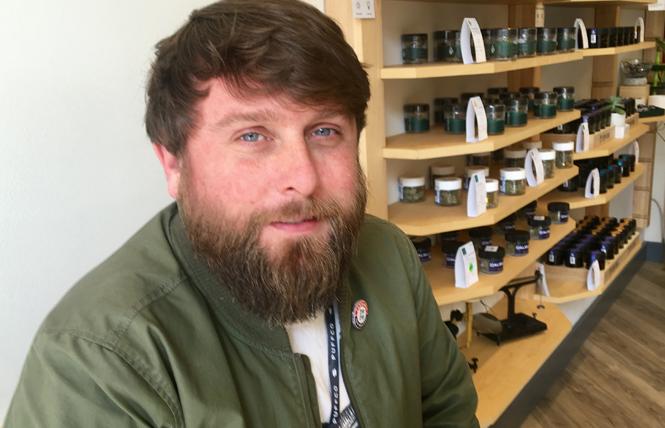 It took eight years of working its way through the government bureaucracy but the Vapor Room, one of San Francisco's quintessential cannabis dispensaries, is open again.
Previously a funky hangout in the Lower Haight from 2004-2012, the Vapor Room has reopened at 79 Ninth Street. While only a fraction of the size of its former storefront, the new space still has a smoking lounge and is staffed with people who have longtime cannabis industry experience.
After closing during the federal crackdown nearly a decade ago, owner Martin Olive promised he'd be back, and he is, hiring Carson Higby-Flowers as general manager.
When we stopped by to visit the new space, located in a former coffee shop in a still-struggling block of Ninth Street, between Mission and Market, Higby-Flowers (yes, his real name) gave us the lowdown.
A longtime cannabis activist who was previously at the Marijuana Policy Project, Higby-Flowers, 36, has been working with Olive for the past 18 months to get the new space ready to open.
"The Vapor Room has been a central gathering place for patients from the days when it was not safe to do so," he said.
While the smoking lounge only accommodates a few patients on its sunny window benches, Higby-Flowers, a straight ally, said the dispensary does offer customers the latest in technology for indoor consumption.
In addition to a Storz & Bickel vaporizer, the Vapor Room staff will be happy to loan customers a Puffco Peak, a state of the art vaporizer that is used with cannabis concentrates, for use in the lounge. But most people actually just smoke a joint, whether they roll their own or buy a pre-roll.
"It's the whole idea of being able to be comfortable smoking in public," Higby-Flowers said, pointing out that it is still illegal to smoke cannabis on the street.
The Vapor Room carries a highly curated menu of products selected by Higby-Flowers and Olive, featuring premium products at accessible prices, he said.
Recently, the store featured Cookies/Wedding Cake flowers at $23 for an eighth, "one of our better deals," Higby-Flowers said.
Since the grand opening earlier this year, the Vapor Room has seen an increasing number of customers, including "many people who I haven't seen in years," said Higby-Flowers. The company is active on social media and "we're getting a lot of love online," he added. Vapor Room will soon be announcing specials for 4/20, the annual cannabis holiday on April 20.
Another new cannabis dispensary and lounge, Moe Greens, opened in January less than a half mile away at 1276 Market Street, near Larkin. Owned and operated by the same people who run the popular Barbary Coast Dispensary, it has three separate areas for on-site consumption: one for vaping, one for concentrates, and one with five large booths to roll up, light up, and smoke.
Bay Area Cannasseur runs the first Thursday of the month. To send column ideas or tips, email Sari Staver at sari@bayareacannasseur.com.
Comments on Facebook