Syringe access site near Duboce Triangle expands services
Wednesday Feb 20, 2019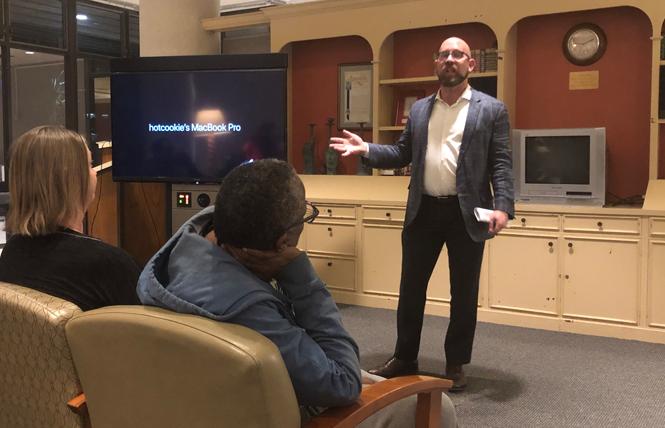 City public health officials told Duboce Triangle residents at a recent meeting that they started an expanded syringe access and disposal site behind the Safeway store last month as a way to offer "low-barrier medical services" to homeless people and others.
The site at Duboce Avenue and Church Street has long been used for needle exchange, said Eileen Loughran with the Department of Public Health. The service, operated by the San Francisco AIDS Foundation, occurs every Tuesday from 6 to 8 p.m. and there is usually a doctor, nurse, and at times a UCSF resident engaging people with services, she explained.
"As noted at the presentation, this is a pilot so we are being thoughtful as we roll out the low-barrier medical services currently being provided," Loughran wrote in an email to the Bay Area Reporter following the February 11 Duboce Triangle Neighborhood Association meeting. "This is the first outdoor site with the low-barrier medical services. SFAF has recently done HIV/HCV testing at their Mission site that is outside. We would like to see low-barrier medical services at all outdoor sites. We began the low-barrier medical services at the site on January 8."
However, Loughran noted that HIV/HCV testing is not done at the syringe access and disposal site behind Safeway.
"Eventually there will be expansion to include HIV/HCV and STI testing," Loughran wrote, referring to hepatitis C and sexually transmitted infections.
Syringe access and disposal sites offer drug users a place to properly dispose of used needles and lower the risk of disease and infection.
"It's a very unique dynamic about developing that relationship [with drug users]," Loughran said to the nearly 40 Duboce Triangle residents gathered during the meeting in the Gazebo Room at California Pacific Medical Center's Davies campus. "Everyone who is accessing these services isn't living on the streets."
Approximately 25,000 injection drug users are in San Francisco, according to Loughran. "It's many of our neighbors; housed people," she said.
DPH is exploring how best to address the stigma around drug addiction and what issues keep someone from accessing services.
Since the on-site medical services began in January, Loughran said 12 people have been medically assisted and received treatment that curbs the craving for opioids immediately. Over 22 people have been referred to other services.
The free program does not require identification.
Gay District 8 Supervisor Rafael Mandelman praised the syringe access and disposal program.
"San Francisco's success in reducing the spread of HIV and other blood-borne diseases is a direct result of data-driven, science-based efforts like the syringe collection and distribution program behind the Safeway, which has been operating for more than two decades," he wrote in an email after the meeting. "I strongly support the pilot program to add additional medical services to get as many people as possible into treatment for their drug addiction and, for those who are living on the streets in Upper Market, into shelter and care."
He added that some residents in the neighborhood had expressed concern last month.
"We have engaged with the Duboce Triangle Neighborhood Association every step of the way and haven't heard of any new or worsened impacts to the neighborhood following the start of the additional medical services," Mandelman wrote. "At last week's DTNA meeting it appeared that the feedback from neighbors was mostly supportive and positive, which seems like a good sign."
DTNA President Kimyn Braithwaite told the B.A.R. in a follow-up email that she thinks board members "want people to have help and have easier access to it."
"If the syringe program can provide services that aren't easily accessible for most, as well as helping people get access to further services, then it's definitely a win," she added. "The main concern is that the corner that the syringe program takes place is already very stressed and some members of the board have expressed a fear that rather than help the community, it will further exacerbate the problems that exist there.
"It was nice to hear the representative from the SF AIDS Foundation talk about their sweeping of the area before and after the program hours and that they will happily expand that sweep to more streets than just the immediate ones," she added.
Also at the DTNA meeting, Alex Lazar, director of neighborhood services in the mayor's office, spoke briefly about initiatives in place to secure more housing, reinforcing Breed's "ambitious plan" of creating 1,000 new shelter beds by 2020.
Lazar said that 942 people have been saved from homelessness since the mayor took office last year. Of those, 658 individuals have been housed permanently and 284 people have been "reunited with households," such as by the city providing one-way bus tickets to people to live with family or friends.
On January 15, Breed introduced legislation to declare a shelter crisis in San Francisco. According to a news release, two ordinances would significantly expand a more limited shelter crisis ordinance already in effect and streamline administrative, contracting, building, and planning code red tape that delays the construction of new shelters and the delivery of services to those in need.
Lazar said 156 San Franciscans become homeless each week, a number that audibly startled the meeting's attendees.
He also skimmed over the new conservatorship law, which was co-authored by gay state Senator Scott Wiener (D-San Francisco) and signed by Governor Jerry Brown last year.
To be considered under the proposal for a judge-ordered involuntary hold or conservatorship, the San Francisco Examiner reported, a person would need to have had eight or more 5150 psychiatric emergency holds in a year, according to the terms of Senate Bill 1045.
"My view is that if it's four people or one person [conserved], it's worth doing it," Mandelman, who supported the bill, said at the meeting. "We should not be saying no to any additional tools."
Mandelman said the city is spending tens of millions of dollars directing police and public health workers, cleaning up after folks who sleep on sidewalks, and intercepting the person "melting down" in the streets.
Sometimes residents report safety issues and health hazards via 311, the non-emergency hotline for municipal services, and the report gets closed without action, Mandelman said.
"We want to know if you find out the city is not responding to it in an effective way," he said. "Sometimes the most troubling thing is seeing someone who seems seriously out of their mind and you're not entirely sure why. It seems like there should be some kind of public health response."
If someone seems to be in danger or experiencing a health problem, call 911, Mandelman encouraged. "The police will determine the necessary response," he said. "If you see someone going into traffic, call 911. See someone is passed out and you're not sure if they're dead, call 911."
The supervisor admitted that there is no direction on telling people where to put their tents, but reinforced that the mayor is committed to get more housing units online.
Braithwaite wrote that she thought the meeting went "very well."
"I appreciated the time that we were given by all of the presenters and the thorough information that they offered. I felt that the community members had thoughtful opinions and the questions that were asked were compassionate while also clearly expressing the frustration that we all feel about the street activity and behavior in our neighborhood and city as a whole," she wrote. "That is part of the reason I wanted to have a meeting focusing on street behavior, because of what I believe is a collective sense of frustration."
Comments on Facebook