Online Extra: LGBTQ Update: LA center offers LGBT lesson plans for teachers
Tuesday Feb 5, 2019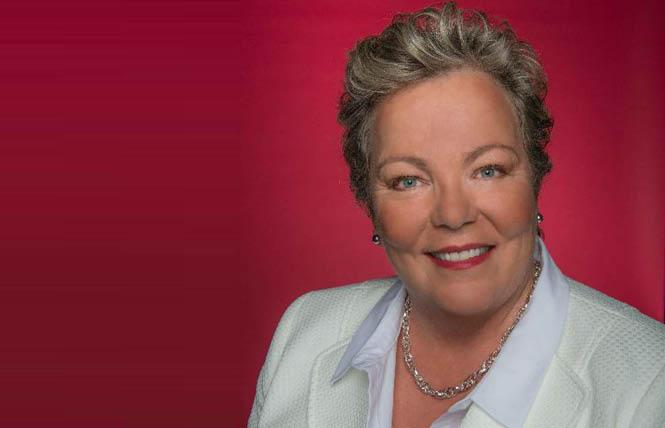 The Los Angeles LGBT Center recently published LGBT history lesson plans online that are available to teachers nationwide.
The lesson plans give teachers access to materials that comply with the 2011 FAIR Education Act that mandates all California K-12 schools to integrate contributions of LGBT Americans into social studies and history textbooks and materials. Governor Jerry Brown signed it into law July 2012; last month New Jersey lawmakers adopted similar legislation to make the Garden State the second in the country to require public schools to teach LGBT history.
There are 10 lesson plans currently offered for free online at http://www.lalgbtcenter.org/lgbthistory. They include a wide range of topics, events, and individuals considered important to LGBT history such as the first openly gay elected official in California, Harvey Milk; the Black Cat Tavern Riots in LA; the HIV/AIDS epidemic; the LGBT civil rights movement; and activists Audre Lorde and Bayard Rustin.
"We are witnessing a pivotal moment in California's education system — the reality of LGBT people and the struggles and accomplishments of the LGBT movement will not be ignored in our classrooms any longer," Lorri L. Jean, the center's chief executive officer, said in a news release. "By teaching the next generations about the historical contributions of the LGBT community, we are helping to build a safer world for LGBT people and a better world for all."
The lessons include step-by-step implementation directions for educators and links to pictures and videos that accompany the plans. The center also gives teachers the opportunity to schedule in-person, customized training sessions on such topics as LGBT cultural competency, gender diversity at schools, and LGBT youth advocacy training.
Two other organizations collaborated with the center on the creation of the plans: the UCLA History-Geography Project and the ONE Archives Foundation. In 2018 the organizations hosted a weeklong symposium that invited teachers from the Los Angeles area to help design the lessons using, in part, the resources at ONE Archives at the USC Libraries, which is the world's largest repository of LGBT materials.
"The inclusion of LGBTQ history and culture within K-12 classrooms brings critical validation and affirmation to the experiences and identities of LGBTQ youth," Erik Adamian, education and outreach manager at the ONE Archives Foundation, said in the release. "The lesson plans are not only a testament to the rich and vibrant history of our community; they are tools for resistance and resilience for youth in the face of erasure that queer narratives often face."
An LGBT teacher who attended the symposium, Hala Dillsi, from Grover Cleveland High School, said in the release, "As a teacher, I am inspired by the resources, lessons, and work to bring LGBTQ+ history to students in a meaningful and engaging way. As a gay person of color, I am proud to learn and relearn LGBTQ+ history in an empowering way where I can see myself in the narratives. I'm grateful for this program and the work we are doing."
The center currently works with 18 education agency partners across the nation that participate in its OUT for Safe Schools program. It was created to encourage school staff and employees to publicly identify as supportive LGBT allies on campus to enable students to feel they are in a safe space outside of their classroom.
Public bathrooms require gender-neutral signage
The International Code Council has approved an amendment that will make public restrooms more accessible to the transgender community. The proposals of the amendment were recommended by the National Center for Transgender Equality and the American Institute of Architects.
The first proposal, approved last week, requires all single-stall restrooms to have signage that indicates they are open to all genders. The second will allow multi-stall restrooms to have gender-neutral, private stalls and a shared sink area.
"Separating single-use restrooms by gender has never made sense for transgender people or anyone else," said Mara Keisling, executive director of the NCTE, in a news release. "These new rules not only preserve the privacy and dignity of all — they make our public spaces more accessible, safe, and equitable."
AIA CEO Robert Ivy talked about the responsibility architects have to creating safe, accessible spaces for all people.
"The American Institute of Architects is proud to have taken a proactive public stance to ensure bathroom accessibility for all. As architects, we are responsible for the health, safety and welfare of citizens in the built environment," Ivy wrote in an email to the Bay Area Reporter. "With pragmatic solutions, we can better serve and accommodate a variety of community needs. The code proposals are but one step in the right direction to enable access for all."
The International Code Council is a 64,000-member group that develops international building codes and standards. According to its website, its international codes are used by most U.S. communities and many global markets.
"These updates are intended to improve restroom accessibility for transgender and gender-nonconforming individuals," stated a news release from NCTE. "Transgender people frequently face harassment in bathrooms separated by gender, with one in 10 respondents in the 2015 U.S. Transgender Survey being denied use of a public restroom because of their gender identity or expression."
The new amendments will be published in the 2021 edition of the International Building Code and are expected to be adopted by state and local governments on a rolling basis thereafter, according to NCTE. Several years ago both San Francisco and the state of California adopted laws requiring businesses and government-run buildings to mark all single-stall toilets as for use by anyone.
The International Code Council did not respond to a request for comment from the B.A.R. before this column was posted.
Funders for LGBTQ Issues elect first trans board chair
An East Coast-based LGBT grant-funding organization has named its first transgender board chair.
Rickke Manazala, a trans man, was recently elected chair of the board of directors of Funders for LGBTQ Issues, a network of 75 LGBT foundations that is based in New York City.
Manazala serves as vice president of strategy and programs at Borealis Philanthropy, which partners with philanthropic organizations helping grant makers expand their impact.
"Our new board leadership is ideally suited to lead us into the next chapter of Funders for LGBTQ Issues' urgent work," said Ben Francisco Maulbeck, president of Funders for LGBTQ Issues. "Rickke's deep experience in social justice will help us shape a new strategic plan that centers racial equity, deepens the work of our Grantmakers United for Trans Communities Initiative, and expands our intersectional LGBTQ training programs."
Manazala previously served as the executive director of FIERCE, a grassroots organization for LGBTQ youth of color in New York City, and was a Ford Foundation New Voices Fellow at the Sylvia Rivera Law Project.
LGBTQ Update is a weekly online column addressing issues affecting the community. It runs weekly. Please submit comments or column ideas to Alex Madison at (415) 875-9986 or a.madison@ebar.com.
Comments on Facebook