Palm Springs gearing up for busy spring
Wednesday Jan 30, 2019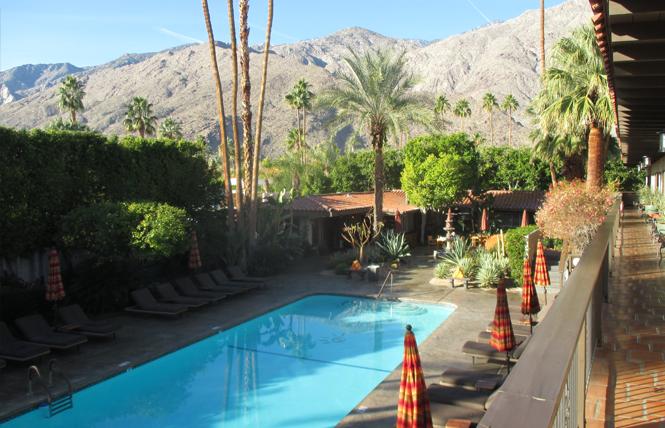 Earlier this month the most memorable part of my trip to Palm Springs was a night I spent in a hotel room in the gay resort InnDulge.

I was in the room for less than two hours but I felt I entered into a time machine. It wasn't an out of body experience, it was part of the very compelling play "Electricity" (https://www.electricitytheplay.com) that is set in a hotel room and chronicles the lives of two gay men from their 10-year high school reunion in 1983 up until 2013. The two-man play is earning well-deserved accolades in the theaters where it is playing around the country, but the InnDulge show is the only place where it is set in an actual hotel room. The show runs through the summer and is a must-see for any visitor to Palm Springs.

Even without the added attraction of a play in a hotel room, the wide variety of gay resorts in Palm Springs is a big draw for gay visitors from all over the world. The city boasts 15 gay hotels, more than any other place on earth.

Starting around Valentine's Day to May is the peak tourist season in Palm Springs when the city typically gets warm sunny days and clear starry nights. April is the biggest month for LGBT tourism with The Dinah (https://thedinah.com) Wednesday, April 3 through Sunday, April 7. The Dinah bills itself as the "largest and most famous girl party music festival in the world." The men take their turn later that month with the world-famous White Party (https://www.jeffreysanker.com) Friday, April 26 through Monday, April 29. If you plan on going to either event, book your hotel now.

One of the newest and gayest things in Palm Springs is on the air. The nonprofit LGBT radio station KGAY debuted last month. "The Pride of the Valley," as it's known, can be heard on 106.5 FM. You can also listen online at https://www.kgay1065.qchella.com/. The station's operations are overseen by Brad Fuhr, a gay man who's the owner of the Gay Desert Guide. KGAY's website has links to that excellent guide.

Spring is a good time of year to experience the spectacular desert landscape in Palm Springs. Most days are still comfortable for hiking, bicycling, and horseback riding. The museum trail, which starts at the parking lot of the Palm Springs Art Museum, is a good introduction to desert hiking in the heart of downtown.

Desert Adventures (https://red-jeep.com/) offers a number of excellent tours that include Indian Canyons and Joshua Tree National Park. On a visit earlier this month, I took the three-hour San Andreas Fault tour that included a short hike through a desert oasis as well as a very unique jeep ride through a narrow rock canyon that was created by shifting seismic plates. The tour includes a walk through an even narrower rock canyon where tour groups have to squeeze through in single file.

If you want to try your hand at horseback riding, Smoke Tree Stables (http://www.smoketreestables.com/) offers easy guided horseback rides through spectacular desert landscape. One of the tours goes through two of the three Indian Canyons oases as well as the surrounding hillsides.

Thanks to the Palm Springs Aerial Tramway (https://www.pstramway.com/), you can sunbathe by the pool and play in the snow all in the same afternoon. The tram takes just 10 minutes to get from the tram station to the snow-capped summit of Mt. San Jacinto. The January storms have translated into plenty of snow that will likely last well into the spring.

If you prefer a more urban experience when you travel, check out downtown Palm Springs. A new street, Museum Way, gives visitors to the city's main drag, North Palm Canyon Drive, a view of the Palm Springs Art Museum (https://www.psmuseum.org/). Many tourists missed the world-class museum because they never knew it was there.

The biggest new downtown development, Kimpton Rowan Hotel (https://www.rowanpalmsprings.com/), is also the tallest building in Palm Springs. The 153-room seven-story hotel features a rooftop pool and sweeping views of the city and the mountains. A 142-room, six-story Virgin Hotel is scheduled to be built across from the Kimpton, but the city announced earlier this month that its projected opening will be delayed until 2024.

Downtown Palm Springs still celebrates every Thursday evening with a street fair know as VillageFest (http://villagefest.org/). The street is packed with food booths, local venders, and street musicians. The Palm Springs Art Museum is also free that night. One of Palm Springs' most talked about art exhibits is free 24/7. "Babies on the Move" is on an empty lot across from the Rowan and features 10 eight foot tall sculptures of babies. The babies are scheduled to be there until early 2020, when a residential building will be built on the lot.

Eating out
The aforementioned Thursday evening VillageFest is a great place to graze for dinner but you will have no shortage of great restaurants from which to choose the other six nights.
The gay-owned Tropicale Restaurant and Coral Seas Lounge (https://apps.thetropicale.com/) always packs a crowd in its 2,000 square foot patio for its famous 4 to 7 p.m. happy hour with live entertainment. The main dining room is a throwback to dinner clubs with elevated semi-circular booths. Tropicale specializes in Pacific Rim dishes, gourmet pizza, and tapas.

Celebrating its 10th anniversary this year, Trio (https://triopalmsprings.com/) is another very popular happy hour spot. It is also a restaurant where you can enjoy gourmet food on the cheap. The gay-owned eatery features a gourmet three-course prix fixe menu for just $22.99 served daily until 6 p.m.

In the heart of the gay Arenas Road area, Johannes (https://www.johannesrestaurants.com/) is an upscale restaurant that is celebrating its 20th year in business. Chef, owner, and restaurant namesake Johannes Bacher is a former San Franciscan but originally from Austria. One of the house specialties is wiener schnitzel, a breaded pan-fried veal cutlet.

Pinocchio in the Desert (http://pinocchiops.com/) is a great breakfast and lunch spot where you will never leave hungry. It is known for its delicious hearty Mexican and American comfort food and bottomless mimosas served up at bargain prices.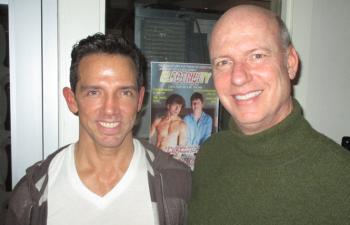 Nightlife
Gay nightlife took hold in downtown Palm Springs in 1991 when Streetbar opened on E. Arenas Road. At that time gay nightlife was centered in neighboring Cathedral City. The block of Arenas Road just east of Indian Canyon Drive eventually became the heart of the city's LGBT nightlife district. That is where you will find the expansive nightspot, Hunters, along with Chill, Quadz (formerly SpurLine), Score, and the newest kids on the block, Stacy's and BlackBook. You will also find the gay clothing and bookstore GayMart and Bear Wear.

Just south of downtown, on the edge of the Warm Sands neighborhood on Sunny Dunes Road, is the leather/bear bar Tool Shed and just east of that the gay store Q Trading Company and Gear Leather and Fetish.

On the north end of the city, be sure to check out Toucans Tiki Lounge (http://toucanstikilounge.com/). The bar has a popular tiki-themed dance floor and live entertainment. The second, fourth (and fifth) Sundays, from 8 to 11:59 p.m. is the very popular drag revue Tommi Rose and The Playgirls.

You can find four gay nightspots in Cathedral City: Barracks, Trunks, Studio One 11, and Runway, which recently opened at Cathedral City Boys Club (https://www.ccbcresorthotel.com/). By the way, CCBC is the only gay resort in the Greater Palm Spring Area that is outside of the city of Palm Springs. Since Delilah's closed and eventually reopened as Studio One 11, there are no full-time lesbian bars in Greater Palm Springs. Search "Velvet-PS" and "HerShe Bar Palm Springs" on Facebook for a list of special events geared toward gay women. Velvet and HerShe Bar Palm Springs host events at various bars in Palm Springs and Cathedral City.

Accommodations
Of the city's 15 gay resorts (16, including CCBC), all are for men and are clothing optional. The last lesbian resort, Casitas Laquita, closed two years ago. The men's resorts all offer free continental breakfast and free Wi-Fi. Santiago (https://santiagoresort.com/), Hacienda Warm Sands (https://thehacienda.com/), and Vista Grande (https://vistagranderesort.com/) even offer a free lunch. InnDulge (https://inndulge.com/), Vista Grande, and the Bearfoot Inn (http://bearfootinn.com/) all throw in a nice perk: free use of the WorkOut Gym (http://www.workoutgymps.com/), a great small gym that unabashedly promotes itself as a gay gym. The gym also sells day, week, and weekend passes.

Although it's common for mainstream hotels in Palm Springs to charge a resort fee, most of the gay resorts do not, despite all the extras. In comparing prices of hotels, be sure to check the resort fee charge, which can be hefty in the mainstream hotels. Among the gay hotels that charge a resort fee are CCBC, Santiago, and Hacienda, but Hacienda's fee is inclusive of all tips.

The Triangle Inn (http://triangle-inn.com/triangle-inn-palm-springs) is a great example of why the gay resorts enjoy a big repeat business. Married couple Michael Green and Stephen Boyd have owned the property since 2000 and live on site. That personal touch shows in the quality of the resort. Triangle also has a very unique offering. You can rent the stunning house that adjoins the property with its own private pool with all the privacy you desire and you can also wander over to mingle with the hotel guests if you choose.

Santiago is kitty-corner from Triangle and has undergone extensive renovations in recent years, taking an already beautiful property up a notch. The two-story resort overlooks a huge pool and spa and is reminiscent of a Mexican hacienda. The resort offers bicycles for guests. The resort is an easy half-mile walk or bicycle ride to the heart of downtown.

The aforementioned InnDulge is another gay resort that attracts a very loyal following even in the slower summer months. It's owned by couple Jon Jackson and Sandy Miller, who make everyone feel like family. The nightly free happy hour is a great way to meet fellow guests. Miller has a knack for remembering names and is great at introducing guests to one another. InnDulge, like most of the Palm Springs gay resorts, attracts guest from all over the world.

Getting there
There are a couple of new options for getting to Palm Springs from the Bay Area. Sun Country Airlines began nonstop service between San Francisco International Airport and Palm Springs in November but the service runs only on Mondays and Fridays. Sun Country joins Alaska and United with providing nonstop service between SFO and Palm Springs.

The cheapest way to get to Palm Springs from the Bay Area is by FlixBus, which offers service from San Francisco, Oakland, and San Jose. The fare you pay will depend on demand and how early you book. Expect to pay in the range of $25-$50 each way, for the ride that takes about 12 hours, including the time to transfer to another bus in Los Angeles. If you don't mind the long drive, the car trip to Palm Springs from San Francisco takes about 7.5 hours without stops.

For more information and a complete list of the gay hotels in Palm Springs, visit the city's official travel website and click on LGBT at the top of the page: https://www.visitpalmsprings.com/.

Contact the reporter at edwalsh94105@yahoo.com.
Comments on Facebook